One more addition of prize winning recipe. Baked Noodles Nest looks gorgeous, you can fill it with your favorite savory food. Crunchy taste of noodles is great to eat.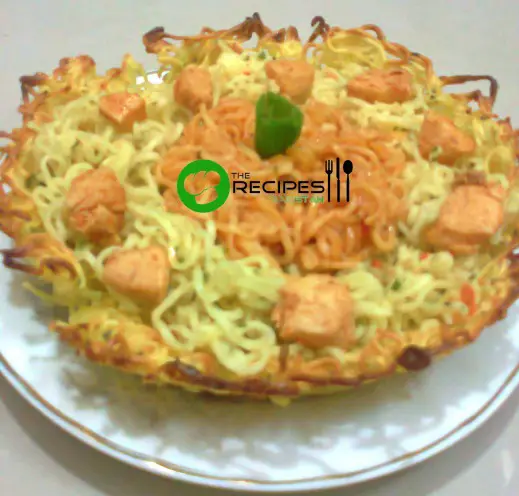 Ingredients
Egg noodles 200g (divided)
Cooked chicken breast 100g (cubed)
Oil 4 tsp
Garlic clove 1 (minced)
Soya sauce 1 tsp
Ketchup 2 tsp
Method
Preheat oven to 180 degrees C.
Cook noodles according to packet instructions, drain, add a dash of oil and toss. Keep aside.
Grease a round 6" baking mould with oil. Press the half cooked noodles into the base and sides of the moulds to form the basket shapes.
Brush again with oil and bake for 10-15 minutes or until golden brown. Remove noodle baskets and place on tray lined with baking paper. Bake noodle nests for further 5- 6 minutes or until crisp.
Heat remaining oil in pan and stir fry garlic mince then add soya sauce and ketchup; stir in reaming noodles. Toss gently.
Fill noodles nest with prepared noodles, top with chicken and serve.