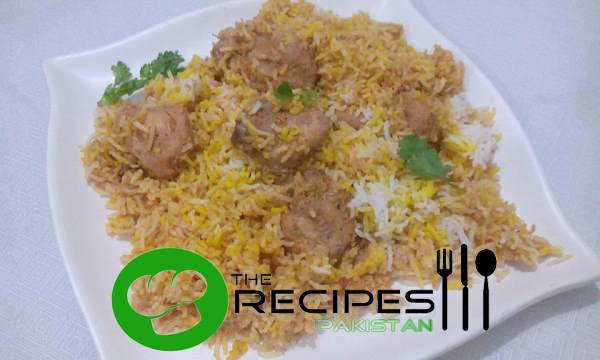 There are various types of Biryani now with different taste. But, BBQ Chicken Tikka Biryani is one of my favorite biryani recipe that I love to eat.
Indeed a marvelous taste! This recipe has a different procedure and that difference creates a lip smacking taste in this chicken biryani recipe.
This is perfect recipe for those people who don't know how make chicken biryani mouthwatering!
BBQ Chicken Tikka Biryani by Shireen Anwar
Prep time:
Cook time:
Total time:
Ingredients
For Chicken Marination
Chicken 1 kg (16 pieces)
Yogurt ¼ cup
Salt ½ tea spoon or to taste
Red chili powder 1 tea spoon
Cloves 4
Nutmeg 1 small
Mace 2-4
Cumin seeds ½ tea spoon
Whole dry coriander 1 tea spoon
Cinnamon sticks 2
Whole black pepper 1 tea spoon
Green cardamom 2 pods
White vinegar/lemon juice 6 tea spoons
Orange food color ¼ tea spoon
For Gravy
Oil ½ cup
Onions 2 medium (chopped)
Ginger garlic paste 2 tea spoons
Tomatoes 4 (chopped)
Green chilies 6-8 (chopped)
Dry coriander powder 1 tea spoon
Yogurt 1 cup
For rice
Rice 500 gm
Whole hot spice 2 tea spoons
Salt as required
Water as required
Fresh coriander leaves 4 tea spoon (finely chopped)
Mint leaves 4 tea spoon (finely chopped)
Green chilies 3-4 (finely chopped)
Instructions
For Chicken
Grind together cloves, nutmeg, mace, cumin seeds, whole dry coriander, cinnamon sticks, whole black pepper and green cardamom.
Mix the grinded spices and all other ingredients in chicken and marinade for one hours.
In a skillet heat oil, transfer marinade chicken. Cook over slow flame until chicken done.
When chicken tender and water evaporates, give it a BBQ aroma with the help of a smoking hot coal.
Uncover, remove coal and shift gravy in chicken. Mix it well.
For Gravy
Fry onions in oil till it's light brown.
Add ginger garlic paste, tomatoes, green chilies, and dry coriander powder. Cook to give it a good mix.
Add yogurt, cook till the oil separates. Don't dry the masala.
For Rice
Take water in a skillet, boil rice with whole hot spices and salt. When they are 80% done, drain the water.
To Assemble the Biryani
Take a bigger skillet. Transfer half rice in skillet; put all chicken with gravy, along with some finely chopped coriander, mint leaves and green chilies.
Now again layer rice, pour kewera water and food color (mix in water) over the rice.
Simmer 8-10 minutes.
Off the flame and uncover after 2-3 minutes.
Serve with raita.