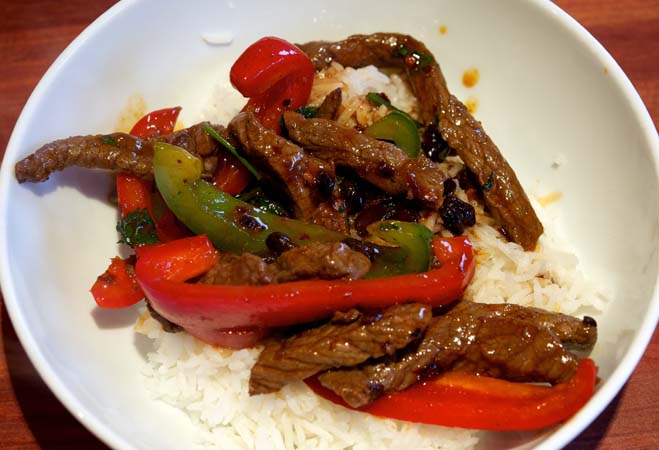 Beef Honey is a delicious dish made with vegetables and honey. It is a perfect dish to serve with rice at a dinner party.
Beef Honey Recipe
Cuisine: Chinese
Author: Admin
Prep time: 12 mins
Cook time: 30 mins
Total time: 42 mins
Serves: 4
Ingredients
Beef undercut ½ kg
Capsicum 1
Green onion 1
Onion 1
Tomato 1
Carrot 1
Salt to taste
Black pepper powder ½ tsp
Corn flour 2 tbsp (divided)
Garlic 5 cloves
Worcester sauce 3 tbsp
Tomato ketchup 3 tbsp
Honey ½ cup
Oil as required (divided)
Instructions
Cut beef in thin slices.
Cut capsicum, green onion, onion, and tomato crosswise.
Cut carrot in rings.
Add salt, black pepper, 1-1/2 tbsp oil, and 1 tbsp cornflour in beef.
Heat 4 tsp oil in a pan and stir fry beef until tender. Add a splash of water if required.
Stir fry garlic in 2 tbsp oil then adds capsicum, green onion, onion, and carrot. Cook until veges are a little soft.
Now add fried beef, Worcester sauce, tomato ketchup, honey, and ¼ cup water.
Cook this and when starts boiling add tomato and 1tbsp cornflour (mixed in water). Mix all and dish out.
You might