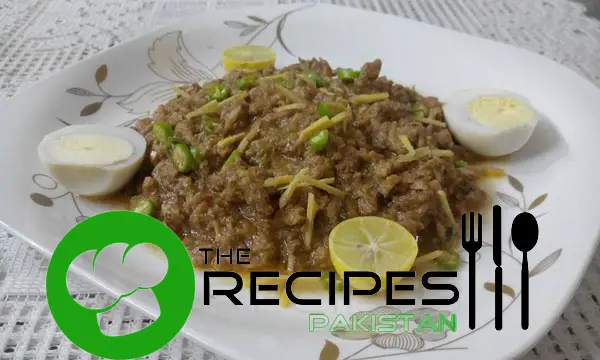 There are many mince recipes; Bihari Mutton keema has a distinct taste that everyone surely love to eat. You can replace mutton with beef mince. I used hand chopped mutton mince in this recipe for more delicate taste. Follow this simple and easy recipe.
For other Pakistani Food Recipes check out fried keema recipe .
Bihari Mutton Keema Recipe in English
Author:
Prep time:
Cook time:
Total time:
Ingredients
Mutton keema 1/2 kg (hand chopped preferably)
Ginger garlic paste 2 tsp
Onion 2 medium (sliced)
Green chilies 6 (chopped)
[url href= http://www.therecipespk.com/bihari-masala-powder/]Bihari masala powder[/url] 1 tbsp
Yogurt 1 cup
Lemon juice 2 tbsp
Green coriander as required
Ginger 1 tbsp (julienne)
Green chili 2 (sliced)
Boiled eggs 4
Instructions
Put mince, ginger garlic paste, onion, green chilies, bihari masala, yogurt and 1 glass water in cooking pan. Cover and cook until mince tender about 45 minutes.
Stir fry at high heat until oil comes on top. Add lemon juice.
Garnish with green coriander, ginger and green chili and serve with boiled eggs along zeera raita and roti/naan.
Bihari Mutton Keema Recipe in Urdu
بہاری مٹن قیمہ

اجزاء

• مٹن قیمہ آدھا کلو)ہاتھ سے کیا ہوا قیمہ زیادہ بہتر ہے)
• ادرک لہسن پسٹ دو چاۓ کے چمچ
• پیاز دو عدد درمیانے سائز کے (کٹے ہوۓ)
• سبز مرچ چھے عدد کٹی ہوئی
• بہاری مصالحہ پاؤڈر ایک کھانےکا چمچ
• دہی ایک کپ
• لیموں کا رس دو کھانےکے چمچ
• سبز دھنیا حسب ضرورت
• ادرک ایک کھانےکا چمچ لمبی کٹی ہوئی
• سبز مرچ دو عدد لمبی کٹی ہوئی
• ابلے ہوۓ انڈے چار عدد

ترکیب
1. قیمہ،ادرک لہسن پسٹ.پیاز،سبز مرچ ،بہاری مصالحہ،دہی اور ایک گلاس پانی ایک پین میں ڈالیں.ڈھک کر پینتالیس منٹ تک پکائیں کی قیمہ تیار ہو جاۓ.
2. تیز آنچ پر قیمہ بھون لیں کے تیل اوپرآ جاۓ.لیموں کا رس ڈال دیں.
3. سبز دھنیا،ادرک اور سبز مرچ کی ساتھ سجائیں اور ابلے ہوۓ انڈوں ،زیرہ رائتہ اور نان یا روٹی کے ساتھ پیش کریں.