A healthy and delicious Cashew Chicken Salad. Follow the easy recipe.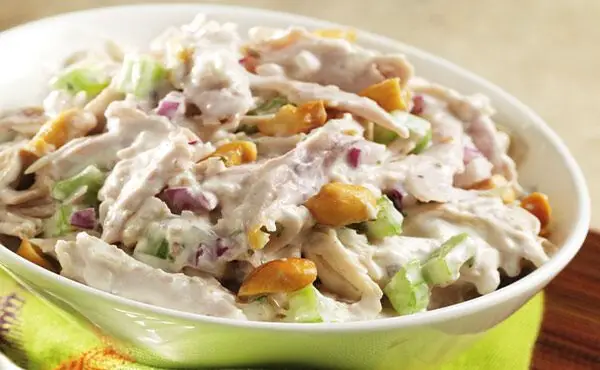 Ingredients
Pasta 2 cups
Brown sugar 1/4 cup
Lemon juice 3 tbsp
Vinegar 1 tbsp
Black pepper ¼ tsp
Cream 2 cups
Salt 1 pinch
Chopped celery 2 cups
Chopped green capsicum 1/2 cup
Chopped onion 1
Boneless chicken breast halves, cooked and cubed 3
Cashews 1 cup
Method
Bring a large pot of lightly salted water to a boil. Add pasta and cook for 8 to 10 minutes or until cooked; drain and rinse with cold water.
In large bowl, combine brown sugar, lemon juice, vinegar, black pepper, cream, and salt. Toss dressing mixture with cooked pasta, celery, capsicum, onion and chicken.
Chill until ready to serve. Mix in cashews just before serving.