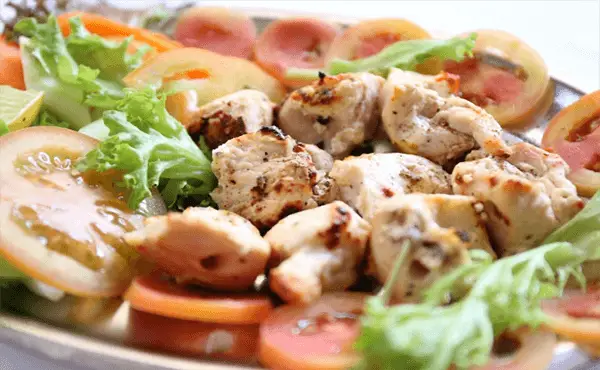 Cheese Malai Boti is much tastier than any other malai boti recipe. I made it with a boneless chicken thigh piece. Thigh piece makes it more juicy and delicious. I made cheese malai boti two times last week with two different cooking methods.
The first time I broiled in the oven and the second time cook on frying pan with little oil. Both cooking method gave it an excellent result. It goes great with Bundu Khan Parathas and Tamarind Dip (Imli ki Chutney).
Delicious Cheese Malai Boti
Prep time: 3 hours
Cook time: 25 mins
Total time: 3 hours 25 mins
Serves: 3
Ingredients
Chicken breast or thigh boneless ½ kg
Marinade 1
ginger garlic paste 1 tsp
Green chili 4 (finally chopped)
Salt to taste
White pepper 1/2 tsp
Black pepper 1/2 tsp
Cardamom powder 1/4 tsp (optional)
Marinade 2
Mozzarella cheese 1/4 cup (room temperature)
Cream 1/4 cup
Yogurt thick 2 tbsp
Corn starch/ corn flour 2 tbsp
White pepper powder 1/2 tsp
Black pepper powder 1/2 tsp
Cumin seeds 1/2 tsp (fine crushed)
Garam masala powder 1/2 tsp
Coriander powder 1/2 tsp
Oil 2 tbsp
Instructions
Cut chicken into cubes and apply first marinade on chicken and leave for 2 hours.
Mix marinade 2 ingredients in a bowl and pour over chicken. Coat nicely and leave it for more one an hour.
Now put chicken cubes on skewers and you can cook it in three ways.
Option 1
BBQ on charcoal grill. Apply oil when its about to done.
Option 2
Heat 2 tbsp oil in frying pan and cook chicken from both sides, 5 minutes from each side ideally. (second time I cook in this way)
Option 3
Place skewers on middle rack and broil in preheated oven for 20-25 minutes. 10-12 minutes from each side. (First time I made with this method)