Chicken Ala Kiev is one of the famous dish, marinated chicken breast filled with butter then coated in flour mixture and is deep fried. This classic East European/Russian dish can easily made at home. Make Chicken Ala Kiev for your family, everyone will love the taste.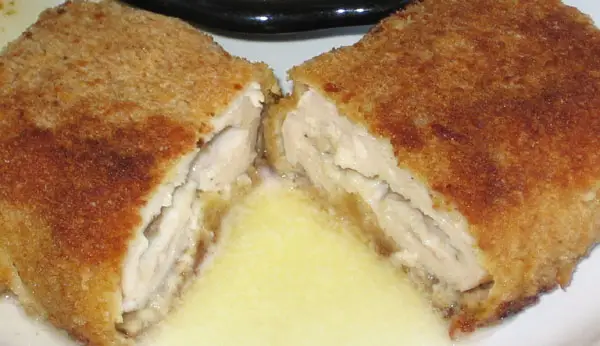 Ingredients
Chicken breast 2 (side bone attached)

Salt 1/2 tsp

Black pepper 1 tsp

Garlic 1 tsp (chopped)



Flour 4 tbsp

Egg 1 or 2

Bread crumbs 1 ½ cup

Ingredients for Herbed Butter

Butter 4 ounces

Garlic paste ½ tsp

Salt and white pepper ¼ tsp each

Parsley finely chopped 1 tbsp

Method

Mix butter with salt, pepper, garlic and parsley, put in a freezer till hard, make in a oblong shape, keep in freezer.

Flatten chicken breast, marinate with salt, pepper and garlic, fill with herbed butter.

Roll tightly to seal, coat in dry flour, then egg then crumbs, do this thrice.

Put in freezer for at least 2 hour, deep fry in low flame until chicken tender.

Serve with mashed potatoes.