Try this tasty recipe of Chicken Pasta with Vegetables by Chef Zakir. if you like spicy taste add green chilies or increase quantity of chili garlic sauce. You can also add cheese in it for more delicate taste and texture.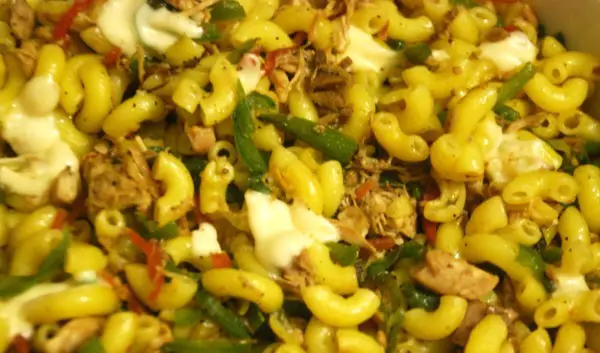 Ingredients
1/4 cauliflower (sliced)
4 cloves garlic (chopped)
4 tbsp oil
2 chicken breast (sliced)
1 onion (cubed)
1 carrot (cubed)
1 capsicum (cubed)
Salt to taste
1/2 tsp black pepper powder
4 tbsp chili garlic sauce
1 packet boiled pasta
1 tomato (cubed)
Cucumber for garnishing
Method
Boil cauliflower. Strain and drop cool water on cauliflower. keep aside.
Cook garlic in oil until golden then add chicken and cook even color turns to golden.
When chicken water dry, include onion, carrot and capsicum. Mix all.
Add salt, black pepper powder, and chili garlic sauce.
Stir cauliflower and paste.
At the end stir in tomatoes. 7 minutes.
Garnish with cucumber and serve.