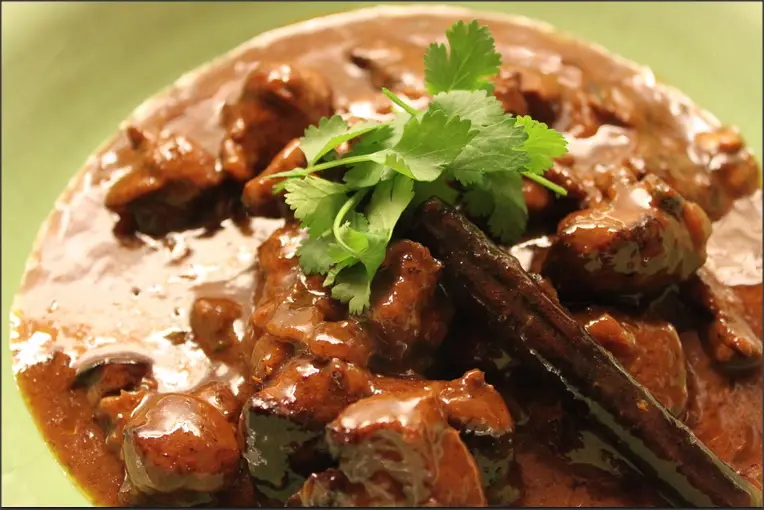 Pakistani curries are popular all over the world. Every region in Pakistan has there own version and taste of curry cooked with gravy. This thick gravy Chinioti Mutton Kunna Recipe belongs from the beautiful area of Punjab which is famous for its artistic wood work "Chiniot". Chef Zakir has made this different style dish for food lovers.
Chinioti Mutton Kunna Recipe by Chef Zakir
Ingredients

½ kg mutton (Machli)
2 medium onion (slice)
2 tbsp ginger, garlic paste
½ cup flour
250 gm yogurt
2 tbsp red chili powder
1 tbsp turmeric
1 tbsp all spice powder
½ cup ghee
salt
Method

Add ginger, garlic paste in ghee and cook a little to remove rawness of ginger, garlic then add meat and cook until mutton water dry.
Include onion and cook again. Add one glass water and cover it.
Mix salt, turmeric, red chili powder and all spice powder in yogurt.
Include yogurt masla in meat after 10 minutes of adding water. Mix, cover and cook on slow flame.
Mix flour in water to make a smooth paste.
When mutton tender increase flame and include flour paste slowly, move spoon.
Cook it now on slow flame 3-4 minutes.
Accompaniments: rice, naan or parathas. Also a fresh green salad, and, raita or sliced salad onions, salted, squeezed and washed, and dressed with yoghurt and ground cumin
Although this recipe is for Mutton, any meat may be substituted.
Chinioti Mutton Kunna Recipe Urdu
چنیوٹی گوشت
اجزاء
بکرے کا گوشت آدھا کلو
پیاز سلائس دو عدد
ادرک لہسن پیسٹ دو کھانے کے چمچ
آٹا آدھا کپ
دہی ایک پاؤ
لال مرچ پا ؤڈر دو کھانے کے چمچ
ہلدی ایک کھانے کا چمچ
گرم مصالحہ پاؤڈر ایک کھانے کا چمچ
گھی آدھا کپ
نمک حسبِ ذائقہ
ترکیب
گھی گرم کرکے ادرک لہسن پیسٹ سوتے کریں جب ان کا کچا پن ختم ہو جائے تو گوشت ڈال کر اتنا پکائیں کہ گوشت کا اپنا پانی خشک ہو جائے۔
اب پیاز اور ایک گلاس پانی ڈال کے ڈھانپ کر پکنے دیں۔
دہی میں نمک، ہلدی، لال مرچ پاؤڈر اور پسا گرم مصالحہ مکس کرلیں۔
دس منٹ بعد دہی والا مکسچر گوشت میں ڈال دیں اور ڈھانپ کر پکنے دیں۔
آٹا تھو ڑے سے پانی میں مکس کریں۔
جب گوشت گل جائے تو آنچ تیز کرکے چمچ ہلاتے ہوئے آٹے کی پیسٹ آہستہ آہستہ سالن میں ڈالیں۔
اسے مزید تین سے چار منٹ پکا ئیں اور نان کے ساتھ پیش کریں۔