A healthy dish for a perfect treat for the whole family. Creamy Chicken Alfredo Pasta has everything we love to eat like chicken, pasta, cream and cheese. Give a try to this delicious recipe.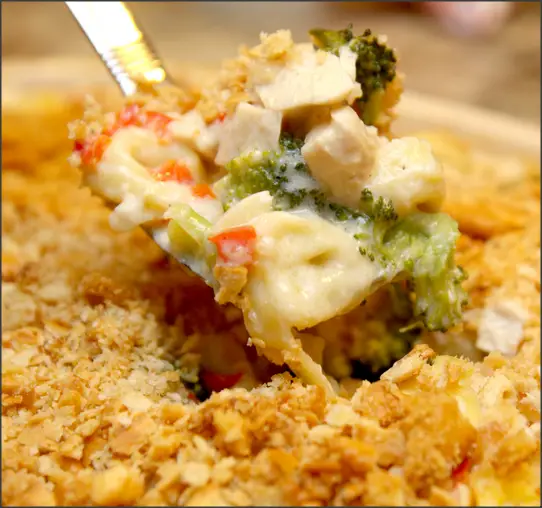 Ingredients
Penne pasta (boiled) 2 cups
Boneless chicken 250 grams
Butter 6 tbsp
Garlic (minced) 4 cloves
Italian seasoning 1 tbsp
Olive oil 1 tsp
Chopped onion 1
Button mushrooms (sliced) 1 tin
Flour 1/3 cup
Salt 1 tsp
White pepper 3/4 tsp
Milk 3 cups
Cream 1/2 cup
Sour cream 1/2 cup
Grated Mozzarella cheese 1/2 packet
Parmesan cheese 3 tbsp
Breadcrumbs
Red pepper flakes 1/2 tsp
Method
Bring a large pot of salted water to a boil add pasta and cook for 8 to 10 minutes all drain and add butter or oil.
In a large skillet over medium heat cook chicken, 2 tbsp butter, 2 cloves garlic mince and Italian seasoning, cook until chicken is no longer pink inside. Remove from skillet and set aside.
For Alfredo sauce, melt 4 tbsp butter in the skillet with 1 tbsp olive oil. Sauté onion, 2 cloves garlic chopped and mushroom slices, until onion are transparent stir in flour, salt and pepper cook 2 minutes, slowly add milk and cream stirring until smooth and creamy then add chicken and sour cream.
To assemble, butter a casserole dish, and place cooked pasta in it. Pour the sauce and then grated Mozzarella cheese sprinkle it all over the top of the saucy pasta.
If you like pasta with a crispy top then sprinkle bread crumbs and red pepper flakes over the top of the Mozzarella cheese.
Turn oven to grill, pop the dish in and watch carefully, not to let the crumbs burned, when the cheese is bubbly and the crumbs are toasted, remove the dish from the oven.
Serve hot with garlic bread or dinner rolls.