Donut Sandwich
Donuts Sandwich is a different type of recipe and it is baked then chicken filling and sauce is assembled in it. For more exciting taste add cheese in it. 😀
Author:
Chef Gulzar Hussain
Recipe type:
Snack & Nibbles
Ingredients
12!For Donuts Sandwich
All Purpose Flour 500 grams
Yeast 1-1/2 tbsp
Sugar 1 tsp
Baking Powder 2 tsp
Butter ½ cup
Salt to taste
For Filling
Boneless Chicken 300 grams (strips)
Crushed red chilies 1 tsp
Bar.B.Q Masala 2 tbsp
Ginger garlic paste 1 tsp
Salt to taste
Oil 2 tbsp
Tomatoes 2-3
Cucumber 2-3
Mayonnaise ½ cup
Mustard Paste 1 tsp
Crushed Black Pepper 1 tsp
Salt to taste
Instructions
Mix together all Purpose flour, instant yeast, sugar, as required salt, baking powder and butter; knead it with water and make a dough. Let rest it for 3-4 hours.
Now take it out the dough and make small balls, give shape of doughnuts and make hole with help of bottle cap. Leave for few minutes then bake it for 5 minutes on 200c now take it out and allow to cool then cut the doughnuts from center.
For Filling: In a bowl put chicken strip, crushed red chilies, bar b q masala, ginger garlic paste and to taste salt add oil mix it well and grill the chicken on grill pan.
Take 2-3 cucumber and 2-3 tomatoes cut the slices.
For Sauce: Take a mixing bowl add mayonnaise, ½ tsp of salt, black pepper, mustard sauce mix it well and sauce is ready.
For Assembling: Take a doughnut spread the sauce, add cucumber, tomatoes slices add chicken and cover with top.
Serve it with ketchup.
I didn't add cucumber and tomato because I didn't have at that moment instead I used onion.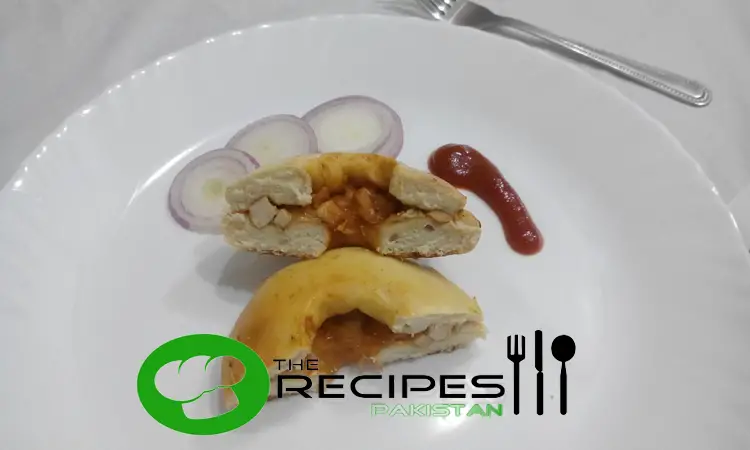 It has a superb taste with addition of cheese.