There's a huge variety of pakora in Pakistani Food Recipes, among them egg pakora (fritters) has its own taste which makes it different from others.
Mostly people use halved eggs for pakora but I cut the egg into slices for making pakora. In this way, it gets an even more delicious taste. Let check it with step-by-step pictures.
How to Make Egg Pakora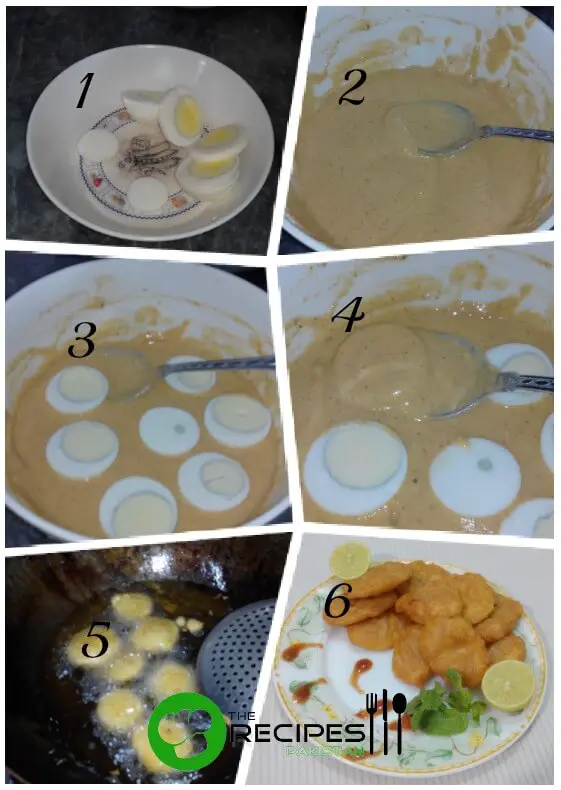 Easy Egg Pakora Recipe
Cuisine: Pakistani
Author: Admin
Prep time: 5 mins
Cook time: 10 mins
Total time: 15 mins
Serves: 4
Ingredients
Eggs 4 (hard boiled)
Gram flour (besan) 1 cup
Salt ½ tsp or to taste
Red chili powder 1 tsp
Coriander powder ¼ tsp
Water for mixing
Oil for fry
Instructions
Slice the boiled eggs and keep aside.
In wide bowl mix together gram flour, salt, red chili powder, coriander powder and make smooth batter by mixing water. The batter should have medium consistency.
Place egg slices on batter and coat it with gram flour batter with help of spoon. Coat it completely so no egg can be seen. Otherwise when you will put egg in oil it will sputter oil.
Put egg slices carefully in warm oil one by one. Don't stir for 1 minute. After that turn over the side and fry until golden from both side.
Serve with [url href="http://therecipespk.com/chili-garlic-sauce/"]chili garlic sauce[/url].
Also Try: Sunny Side Up Eggs for Breakfast