Liberty Market is a famous shopping place in Lahore, Pakistan. People who go there to shop must eat delicious fruit chaat.
You will find many refreshment shops there side by side offering fresh juices, shakes, chana chaat, and fruit chaat.
No doubt Liberty fruit chaat has its own taste and texture which differentiates it from others.
Yesterday by chance I got the recipe from a website by Chef Shireen Anwar and as you know this is the holy month of Ramadan so the next day I made it at Iftari time.
Taste-wise, it is very similar to the chaat I had on liberty. Read this recipe and know about the secret ingredient of Liberty Fruit Chaat.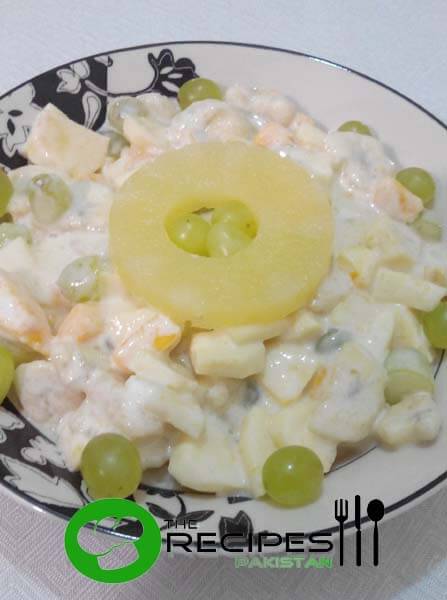 Liberty Fruit Chaat Recipe
Author: Chef Shireen Anwar
Prep time: 15 mins
Total time: 15 mins
Serves: 4
Ingredients
Banana 6 (sliced)
Mangoes 2 (sliced)
Apples 3 (peeled and sliced)
Pineapple 1 tin (cubed)
Chiku 4 (peeled and sliced)
Grapes 1 cup
Chickpeas 1 cup (boiled)
Fresh cream 1 ½ cup
Mayonnaise 4 tbsp
Caster sugar 4 tbsp
Salt ½ tsp
Chat Masala 1 tsp
Tamarind chutney 3 – 4 tbsp
Instructions
Add all fruits and chickpeas in a bowl.
In another bowl beat cream slightly with mayonnaise then mix in sugar, salt, chaat masala and tamarind chutney.
Pour this cream mixture on fruits and toss gently.
Cool in fridge and serve.
Note
You can use any seasonal fruit in chaat.