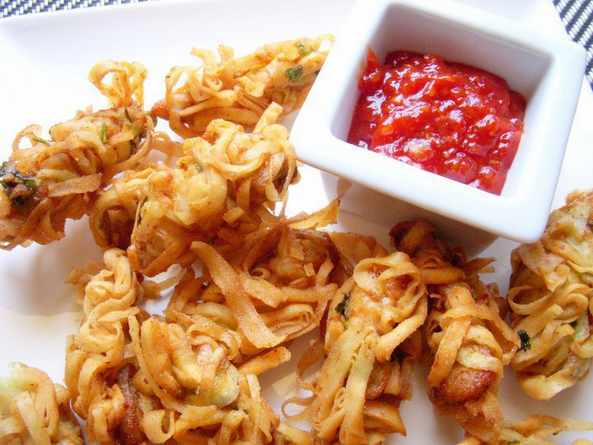 Chicken Threads apparently looks difficult, but in fact this is not. I am sharing it with step by step image so you can make it easily. Its crispy and juicy chicken with a delicious taste.
Also Try: KFC Chizza Recipe, Chicken 65 Recipe
Chicken Threads Recipe
Author: Admin
Prep time: 50 mins
Cook time: 20 mins
Total time: 1 hour 10 mins
Serves: 6
Ingredients
Chicken fillet ½ kg (cut into 2"thick strips, finger size in length)
Red chili powder 1 tsp
Salt to taste
Juice of 1 lemon
Green chillies 4(finally chopped)
Corn flour 1 tbsp
Egg 1 (beaten)
Samosa sheets 50 or as required
Oil for fry
Instructions
Marinate chicken strips in all spices except egg leave it for ½ hour to marinate.
Cut samosa sheet in width very finely like spaghetti. So it will look like threads.
Add beaten egg in chicken.
Take 1 strip of chicken and lightly roll in samosa threads be careful not to press, roll till chicken strip is fully covered with threads of samosa sheet .
Repeat with all strips of chicken.
Deep/shallow fry in moderately hot oil till threads are golden in colour.
Note
Recipe and featured image courtesy by Fati Naz