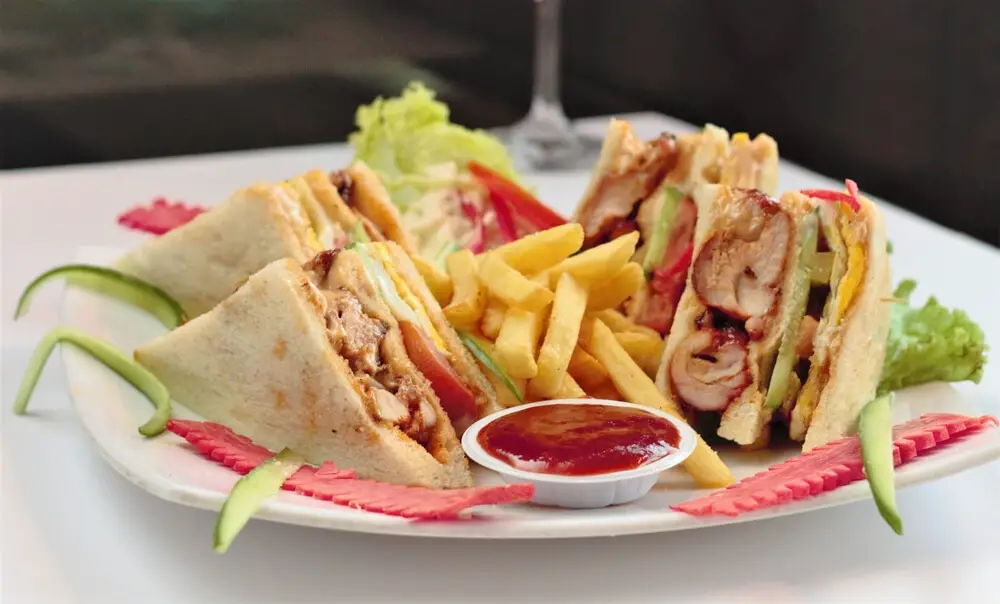 Get ready to elevate your sandwich game with our tantalizing Club Chicken Tikka Sandwich recipe.
This delectable fusion creation combines the classic club sandwich concept with the irresistible flavors of chicken tikka, a beloved dish from the subcontinent.
If you're looking to impress guests at a picnic, enjoy a quick lunch at home, or simply satisfy your cravings, our Club Chicken Tikka Sandwich recipe is a winner.
Also Check French Chicken Sandwich, Club Sandwich
Club Chicken Tikka Sandwich Recipe
Author: Admin
Prep time: 15 mins
Cook time: 20 mins
Total time: 35 mins
Serves: 4
Ingredients
Boneless chicken 300g (cubed)
Ginger garlic paste ½ tsp
Yogurt 2 tbsp
Red chili powder 1 tsp
Cumin powder ½ tsp
Salt to taste
Oil as required
Bread as required
Fried egg as required
Mayo ½ cup
Cucumber 1 (sliced)
Tomato 2 (sliced)
Instructions
Marinade chicken with ginger garlic paste, yogurt, red chili, cumin powder and salt for about 15 minutes.
Heat 1 tbsp oil in a pan and cook chicken until soft.
Put coal on the fire and hot it until red. Put a dry bread piece or foil over the chicken and place hot coal on it. Drop oil, cover, and allow smoking for about 15 minutes.
Remove the edges of bread and toast slices, and apply mayo on all bread slices.
Spread cucumber and chicken on a bread slice and cover it with another slice.
Spread tomato slice and fried egg and cover with another bread slice.
Press gently and cut into slices. Repeat with remaining bread.
Note