Here is a perfectly baked hot cross buns that you can enjoy with butter and jam.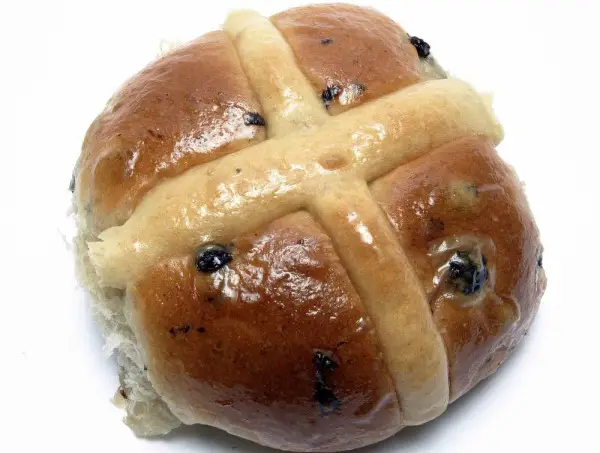 Ingredients
Flour 500 gm
Caster sugar 2 oz (4 tbsp)
Dried yeast powder 1 tbsp
Egg 1
Salt 1 tsp
Ground cinnamon 1 tsp
Ground nutmeg 1/2 tsp
Orange peel chopped 1 tbsp
Currants or raisins 3 oz
Butter melted and cooled 2 oz
Warm milk 1/2 cup
Warm water 1/4 cup
Oil to grease
Shortcrust pastry 2 oz
For Glaze
Water 2 tbsp
Caster sugar 2 tbsp
Method
Sift flour, sugar, yeast, egg, salt, cinnamon, nutmeg, orange peel, currants, melted and cooled butter, warm milk and water in a bowl. Kneed to a soft, smooth and elastic dough.
Put dough in an oiled bowl to rise in a warm place till doubled for an hour.
Punch down the dough and turn onto a lightly floured surface and knead till smooth.
Divide dough into 12-15 portions and shape into balls.
Arrange the buns on one or two baking trays lined with parchment, leaving enough space for the dough to expand and put on a tray.
Roll out the shortcrust pastry and cut in thick strips and place on top of the bun in a cross shape. Secure with a little water.
Cover with oiled cling and let rise again for 30 minutes.
Bake at 220 degrees C for 15 minutes or till risen and brown.
Let cool on wire rack and make a sugar glaze by melting sugar in water and then brush over buns. Serve warm with butter and jam.