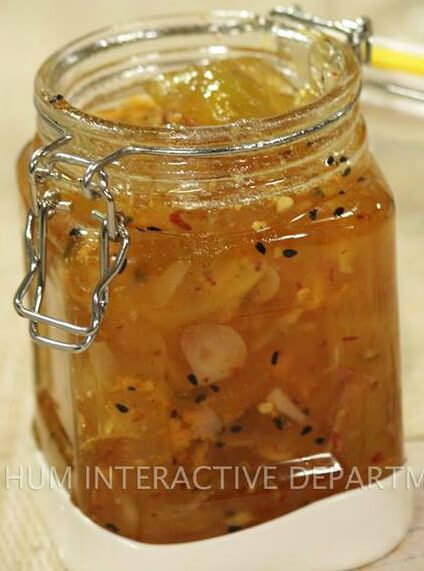 Nauratan Chutney is a tangy condiment made with raw mangoes. You can serve it with various meals. Follow Chef Shireen Anwar recipe for an ultimate taste.
Nauratan Chutney Recipe
Author:
Prep time:
Cook time:
Total time:

Ingredients
Raw Mangoes (grated) 1 kg
Sugar 2 kg
Melon Seeds 50 grams
Almonds 30 grams
Pistachios 30 grams
Raisins 30 grams
Oil as required
Nigella Seeds ½ tsp
Red Chili (crushed) ½ tsp
Saffron Color a pinch
Salt to taste
White vinegar as required
Instructions
Boil raw mangoes with salt until soft.
Remove the water and place raw mangoes in a saucepan, add sugar and cook. When it reaches to boil remove from stove.
Heat oil in a frying pan, add almonds, pistachios, raisins, nigella seeds and melon seeds. Fry for a minute.
Add this bhagar to the chutney. Leave it to cool. Add vinegar as a preservative. Keep in an air tight bottle.
Other Recommended Chutney Recipes