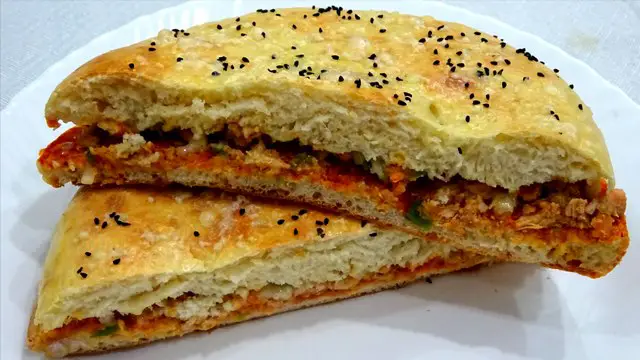 The first time I had eaten Italian Chicken Sandwich at Pizza Hut, the taste was delicious, but that was not spicy. I baked it according to my taste and amazingly there was no problem baking a soft sandwich.
So simple and easy, I used chicken, capsicum, onion, and pizza sauce in the filling. This is perfect to serve in tea time treat.
Pizza dough is used in it. Everyone knows how to knead the dough so I didn't capture those pictures. You will find below step-by-step pictures on how to make the sandwich.
Step by Step Italian Chicken Sandwich Recipe
Knead the dough according to the instructions mentioned below and leave for rising until double.
Grease a round spring pan, (you can also use a simple cake pan). Roll out dough into 9×9 inches round shape about half inches thick.
Leave for rising for about 15 minutes.
Bake it in a preheated oven
Divide into two slices.
Spread Filling
Cover with a second bread slice. Bake for 2 minutes or until cheese melts.
Slice and serve.
Homemade Italian Chicken Sandwich
Prep time:
Cook time:
Total time:
Ingredients
For Sandwich Bread
All-purpose flour 2/12 cups
Powder milk 2 tbsp
Egg 1
Salt 1 tsp
Caster sugar 1 tbsp
Oil ¼ cup
Instant yeast 1 and ½ tbsp
For Filling
Chicken 250 gm ( thinly sliced)
Capsicum 2 tb (chopped)
Oil 2,3 tbs
Onion 1 small ( finely chopped)
Pizza sauce 4 tbsp
Cheddar cheese ¾ cup (grated)
Salt to taste
Red chili 1tsp
Black pepper ½ tsp
Vinegar 1 tb
Ginger garlic paste 1 tsp (leveled)
For Topping
Egg ½
Nigella seeds ½ tsp
Cheddar cheese 2 tbsp
Instructions
For Sandwich Bread
Put all ingredients in a bowl, knead it with warm water cover and leave for rising for 1 hour or until double in size. You can also use a dough mixer for dough making.
Grease 9 inch round cake pan or baking tray. Grease your hand and put the dough on the pan and spread it with your hand into a round shape. Allow rising again for 15 minutes.
In meanwhile preheat the oven for 10 minutes at 180 degrees. Shift pan or baking tray in the oven and bake for 12-15 minutes.
Remove from oven, let it cool and divide into 2 portions.
Now on one bread spread the filling and top with cheese. Cover it with other bread. Brush with egg, sprinkle nigella seeds and cheese.
Put it in the oven and broil for 2-4 minutes or until golden on top.
Cut into slices and serve.
For Filling
Heat oil in a pan, sauté ginger-garlic paste then add chicken. Cook until changes the color.
Add salt, red chili powder, black pepper, and vinegar. Add ¼ cup water, cover, and cook until tender.
Now mix in onion, capsicum, and pizza sauce. Remove from heat and keep aside.