Kerala Chicken Roast is a fablous recipe by Zarnak Sidhwa that I made with a little modification and add yogurt also for a more unique taste and texture. Follow Kerala Chicken Roast Recipe and enjoy with family and guests.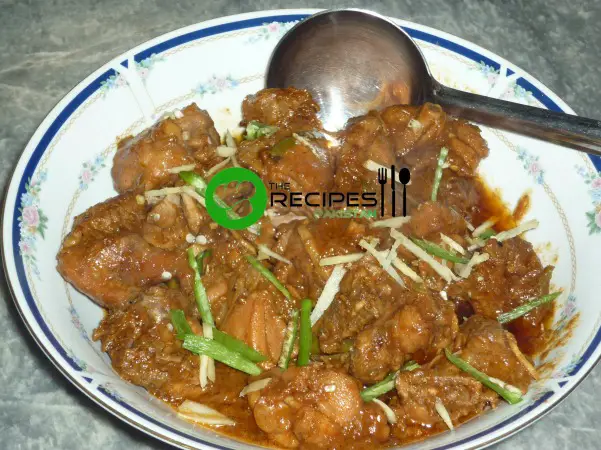 Ingredients
Chicken 1 kg
For the Marination
Turmeric powder 1/4 tsp
Chilli powder 1/4 tsp
Coriander powder 1/4 tsp
Vinegar/lemon juice 1 tsp
Ginger 1″ piece
Garlic cloves 5
Green chillies 3-5
Salt to taste
For Roasting
Tomato 1 large
Onions 3 medium (sliced)
Green chillies (slit) 2
Curry leaves 3 sprigs
Yogurt 1/2 cup
Garam masala powder 1/4 tsp
Black pepper powder 1/4 tsp
Lemon juice of 1 lemon
Oil as required
Method
Make a paste of all the ingredients under marination.
Marinate the chicken pieces with this paste and keep aside for an hour.
To make tomato paste, blanch tomato (boil in water), remove the skin and blend tomato.
Fry onion in hot oil. Drain them & keep aside.
Fry the chicken pieces in the same oil until almost done. Keep the pan covered so that the chicken is not browned, but is cooked inside.
Heat 2 tbsp of oil in another pan, add slit green chillies and curry leaves. Sauté for a minute. Add the tomato paste to this and sauté for 1 minute.
Add yogurt and stir for another 2 minutes.
Now add the prepared chicken & roast until it is dry. Make sure that all the chicken pieces are well coated with the masala.
Sprinkle garam masala & pepper powder & mix well. Add lemon juice and mix well. Check for salt. Add a little if needed. Now add the fried onions and mix well.