Maharaja Chicken is a boosting recipe by Chef Zarnak Sidhwa with lots of flavors. A fabulous dish to serve your family and guests. I omit nuts and dried fruit from the recipe while tried and the taste and texture was super delicious. The original recipe calls for 3 cups oil but I used only 1 cup. You can do a little up and down in the recipe according to your taste.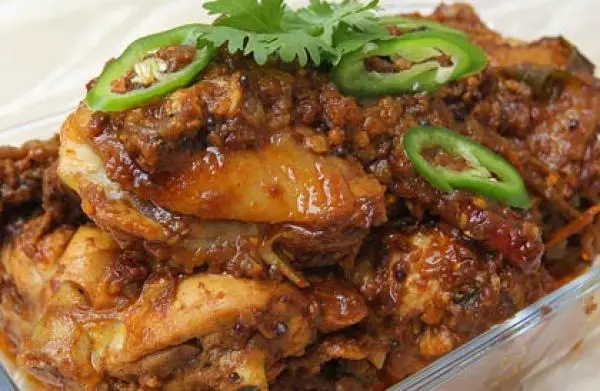 Ingredients

Chicken whole 1

Egg (boiled) 2

Saffron 1 tsp

Yogurt ½ kg

Browned onion 1 cup

Turmeric powder 1 tsp

Coriander powder 1 tsp

Red chili powder 1 tbsp

Ginger paste 1 tbsp

Garlic paste 1 tbsp

Salt to taste

Garam masala powder 1 tsp

Oil 3 cups

Cardamoms 6

Almonds 8

Pistachios 8-10

Cloves 6

Cinnamon 3

Cumin seeds 1 tsp

Dried plums 8

Dried apricots 4

Method

Soak saffron in 1 tbsp water and rub on the chicken.

Place boiled eggs inside the chicken cavity and seal with the help of threads.

Heat oil and fry chicken on both sides well. Keep it aside.

In this oil add garam masala powder, yogurt, and all the ingredients in it and fry for a while.

Now place chicken in it, pour yogurt mixture over chicken frequently and cook.

When chicken is done add dry plums and apricot.

Dish out chicken in platter, pour over gravy and serve with naan.