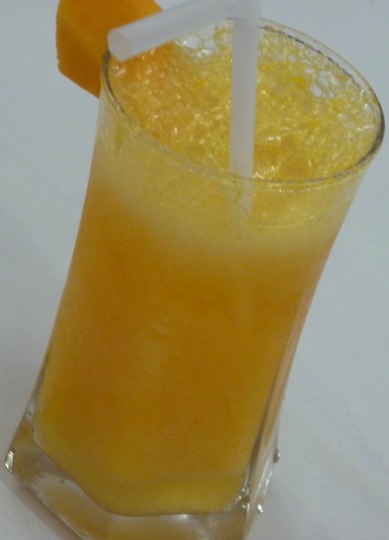 Among the various recipes of mango, here is one refreshing Mango Soda drink.
Adding soda to mango syrup makes it delicate. I used 7up/Sprite in it because I didn't get soda water.
Try out mango soda and entertain your guests. You can serve it to 2-3 people.
How to Make Mango Soda
Prep time:
Cook time:
Total time:
Ingredients
Water 1/2 cup
Sugar 1/2 cup
Mango 1 (chunks)
Soda water 1/2 liter
Ice cubes as required
Instructions
Add the sugar and water in a saucepan and simmer until the sugar dissolves. Allow to cool.
Put mango chunks in a blender and make smooth puree. Add sugar syrup and blend until smooth. Pour the mango syrup into a jug.
To serve, add some ice cubes into the glasses. Pour in the mango syrup, filling the glasses about a third of the way up. Fill the glasses with the soda. You can adjust the ratio of syrup and soda according to your taste.
Serve immediately.