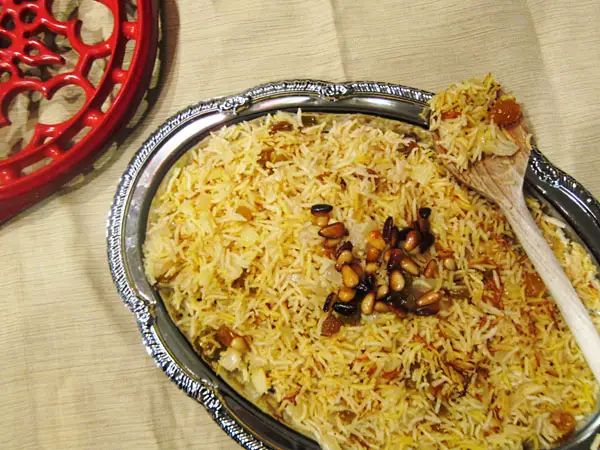 This is a vegetarian version of the rice recipe. Mughlai Rice is delicious to eat with nuts. A tempting recipe by Chef Zakir, don't forget to try this rice recipe.
Mughlai Rice Recipe
Author: Chef Zakir Qureshi
Prep time: 10 mins
Cook time: 15 mins
Total time: 25 mins
Serves: 4
Ingredients
Rice ½ kg (soaked in water)
Onion 2 medium (thinly sliced)
Sabet garam masala 2 tbsp
Green chilies 3 (slit)
Raisins kishmish 50g (soaked in water)
Almond 50 g
Pistachio 50 g
Dry apricot 100 g
Plum 100 g
Nutmeg powder 1/2 tsp
Salt to taste
Ghee ½ cup
Instructions
Boil almond in water, drain water and add cold water in almond. Remove the skin of almond.
Fry onion in ghee when turn to soft add sabet garam masala, green chilies, almond, pistachio, raisins, dry apricot, nutmeg powder, plum, and then stir in rice.
Add 1 and ¼ cup of water in rice along with salt and cook (check salt).
Cook till water dry and bubble arise. Simmer the rice for 10-12 minutes.
Serve alone or with gravy.
Check out an outstanding recipe KFC Hot Shots & Hot and Spicy Rice