Pistachio Pudding is a delicious dessert to serve family and guests. Pistachio Pudding is full of flavor and easy to make.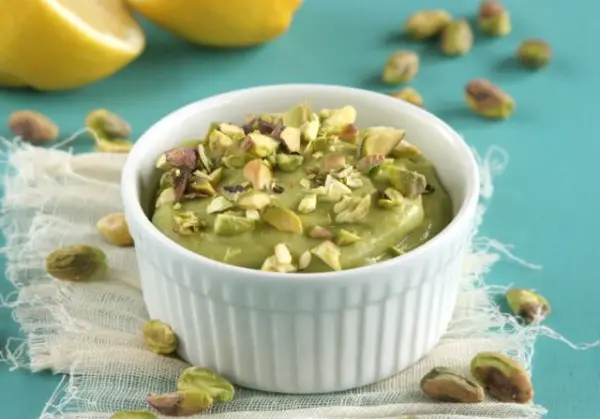 Ingredients
Salted pistachios 1/4 cup + 2 tbsp (shelled and chopped)
Granulated sugar 1/4 cup
Water 1 tbsp
Milk 1 cup
Egg yolk 1
Cornstarch 1 tbsp
Pinch of salt
Vanilla essence 1/2 tsp
Butter 1 tbsp
Whipped cream, for garnish
Method
In a food processor, grind up 1/4 cup pistachios until they are in tiny pieces. Add 2 tbsp sugar and water then grind until forms a paste.
Scrape the paste into a medium saucepan then add the milk. Heat until hot and it starts to steam, whisking often.
Meanwhile, in a small bowl whisk together the remaining 2 tbsp sugar, egg yolk, cornstarch, and salt. Add a little bit of the hot milk, whisking constantly. Pour the entire yolk mixture into the saucepan.
Continue cooking the mixture until thick and bubbly, whisking constantly. Remove from the heat and whisk in vanilla and butter. Whisk until the butter has melted.
Divide the pudding between two ramekins, cover with plastic wrap, and chill for at least 4 hours. When ready to serve, garnish with whipped cream and remaining 2 tbsp pistachios.