Pizza is one of the most desirable fast food of the present era especially for kids who love to eat cheesy pizza. Pizza is baked in the oven, but there are many people who don't have an oven in their homes.
This post is addressed for those people who also want to enjoy yummy homemade Pizza. Here is a step-by-step picture tutorial for an easy understanding that how can you make pizza without an oven. It has a 100% result.
Also Check: Pizza Cone Recipe
Homemade Pizza Recipe Without Oven
Ingredients
For Pizza Dough
Plain flour 2 cups
Dry yeast 1 teaspoon
Dry milk powder 2 teaspoons
Sugar 1 teaspoon
Salt ¼ teaspoon
Egg 1
Oil 2 teaspoons
Warm water as required
For Pizza Sauce
Oil 4 teaspoons
Garlic paste ¼ teaspoon
Onion 1 (boiled and blended)
Tomato puree ½ cup
Crushed red chili ½ teaspoon
Salt to taste
Oregano ¼ teaspoon
Tomato ketchup 4 teaspoons
For Topping
Boneless chicken 250 gm (cubed)
Ginger paste ½ teaspoon
Garlic paste ½ teaspoon
Crushed red chili 1 teaspoon
Hot spice powder ½ teaspoon
Black pepper powder ½ teaspoon
Salt to taste
Yogurt 3-4 teaspoons
Lemon juice 2 teaspoons
Oil 2 teaspoons
Onion 1 medium (cubed)
Mozzarella cheese 1 cup
Cheddar cheese ½ cup
Instructions
For Pizza Dough
Combine all dry ingredients in a bowl. Mix in egg and oil, kneed gently to a dough with warm water. Cover and rest the dough for 45 minutes to double it.
For Pizza Sauce
In a frying pan, put oil and heat it up, add garlic and blended onion, sauté for a minute.
Put chopped tomatoes, crushed red chili, salt, oregano, and tomato ketchup and mix well, put 2-4 teaspoons of water, and cook until thick and done. Let it cool.
For Filling
Marinade chicken with all ingredients for 2 hours.
Then barbecue or bake in the oven at 180 degrees C for 20 minutes and smoke them with charcoal.
Pizza Assembling
On a floured surface, roll out pizza dough into 9-inch circle or in which size you want to make.
Place the pizza dough in pizza pan or on a baking tray then prick it with a fork.
Spread the pizza sauce over the surface and on it chicken tikka and cubed onion. Arrange the cheeses on top.
Pizza in Pan
Heat up a nonstick or silver large kettle for 10 minutes, place a wire stand or steel plate upside down in the kettle then set pizza pan on it. Cover tightly and cook for 10-15 minutes.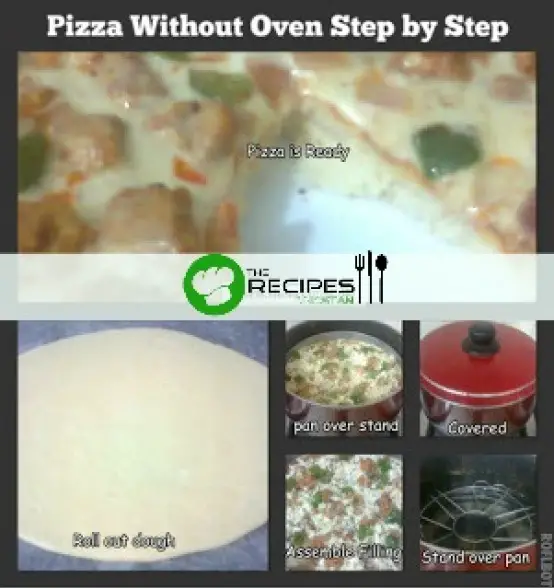 Baking in Oven
Bake in a preheated oven at 200 Degree C for 15 minutes, or until the pizza is golden on the edges and crisp underneath.
Chicken Tikka Pizza is ready to serve.