Sandwich cake is one of the best savory cake to serve at any special occasion. Once I suggested this cake to my niece in her school competition and she got 3rd prize. Here I am sharing my friends recipe with step by step pictures so everyone can make it easily.
This recipe calls for four bread layers but if you want three layers then reduce quantity of ingredients.
See this picture and there is no difficulty in preparing a perfect sandwich cake.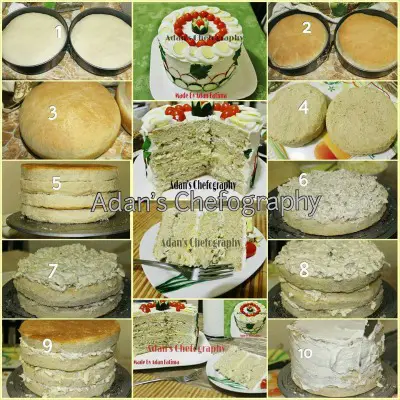 Step by Step Sandwich Cake Recipe
Author:
Prep time:
Cook time:
Total time:
Ingredients
Bread layers
Yeast 1,1/2 tbsp
Water 500 ml (2 cups)
Salt 2 tsp
Honey 1 tsp
Cooking oil 2 tsp
Whole wheat flour 165 g (1 1/4 cup)
All-purpose flour(Maida) 380-450 g (4 1/2 – 5 cups)
Filling No 1
Chicken Salad Spread
Boiled & shredded chicken 12 ounce
Chopped celery 1/4 cup (optional)
Mayonnaise 1/3 cup
Onion powder 1/2 tsp
Black pepper 1/2 tsp
Salt 1/4 tsp
Filling no 2
Egg Salad Sandwich Spread
Eggs 6
Celery 2 sticks (optional)
Onion powder 1/2 tsp
Black pepper 1/2 tsp
Salt 1/4 tsp
Mayonnaise 6 tbsp
Mild mustard 1 tbsp
Frosting
Sour cream 1 cup
Cream cheese 8 ounces (room temperature)
Mayonnaise 3 tbsp
Hard boiled eggs for decor
Instructions
Bread Layers
Dissolve the yeast in water. Add salt, honey, oil, and whole wheat flour in a bowl. Mix in white flour. Knead with dissolve yeast water and put back into a bowl, cover and let rise 45 minutes.
Remove dough from bowl, knead, and make a round cake. Let it rise in a greased, round dish, ideally a spring form pan. Cover and let rise for 45 minutes.
Heat the oven to 200C/400F . Bake the bread for about 30 minutes. I baked only 20 minutes, depends on your oven.
Cool under a cloth. With this amount I made 4 layer cake if you want small cake cut recipe in half.
Chicken Salad Spread
Combine everything together.
Egg Salad Sandwich Spread
Hard boil the eggs. Allow them to cool, then peel and chop them finely.
Chop the celery finely. Combine the eggs and celery in a mixing bowl. Add all other ingredients and mix well.
Frosting
First of all beat cream cheese well with beater until smooth then add sour cream and mayonnaise and mix well and use for frosting sandwich cake.
Assembling
Spread chicken salad filling on first layer of cake, place second cake layer and spread egg salad filling, set the third cake layer and spread both remaining fillings and cover it with the fourth layer.
Press softly, now cover it with frosting and decor with boiled egg slices.