A one pot chicken recipe with a delicious taste. Combination of chicken and capsicum make Spanish Chicken Rice a satisfactory dish to serve.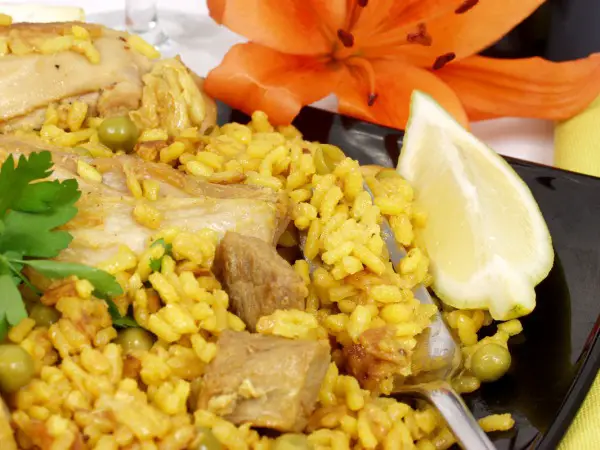 Ingredients
375 g chicken
3 cloves garlic (thinly sliced)
½ cup olive oil
2 medium tomatoes (cubed)
1 green capsicum (cubed)
1 red capsicum (cubed)
1 tbsp black pepper powder
Salt to taste
½ kg rice (soaked)
1 lemon (sliced)
Saffron a pinch
Instructions
Cook garlic in oil until turns to golden color.
Add chicken, slow flame, and cook until the water of the chicken dry and the color changes.
Add tomatoes now. After 2 minutes include capsicum, black pepper powder, and salt. Mix all.
Add rice and mix. Now add 1. ¼ up water and cook rice.
On drying water, place lemon and sprinkle saffron on top. Simmer for 8-10 minutes.
Before serving take out lemon.