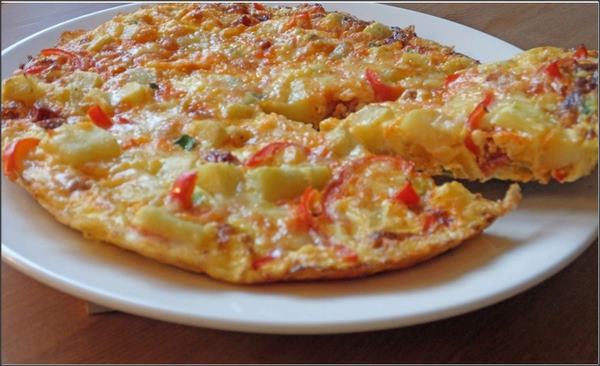 Spanish Potato Omelette is a delicious variation in breakfast. A combination of eggs along potato, onion, and cheese make it super tasty.
Also Check: Sunny Side Up Egg, Spring Omelette
Spanish Potato Omelette
Cuisine: Spanish
Author: Admin
Prep time: 5 mins
Cook time: 5 mins
Total time: 10 mins
Serves: 2
Ingredients
Eggs 4
Milk 2 tbsp
Salt & pepper for seasoning
Hard-boiled potato 1 medium (diced)
Onion 1 (chopped)
Green chili 2 (chopped)
Cheese 1/4 cup (grated)
Oil 2 tbsp
Instructions
Whisk eggs with milk and season with salt and pepper.
Heat oil in a frying pan, pour half the egg mixture that covers the base. Sprinkle potato, onion, and green chili. Let cook for 1-2 minutes.
Pour the remaining egg mixture and cook 1 more minute and carefully flip over omelet.
Cook the other side, when you are sure the egg is fully cooked, sprinkle cheese and carefully transfer it into the plate.
Serve with bread.