Special Bakra Eid Recipes
Eid ul Edha is a religious festival of Muslims which is celebrated every year all over the world. This is also called Bakra Eid as the scarifies of animals is done at this Eid.
Special meaty dishes are made on this occasion to feed the family and guests.
We have collected here some must be made Pakistani Food Recipes related to meaty dishes. So what you are waiting for? Arrange your table with a recipe for Eid special dishes and enjoy!
         1- Nihari
Nihari is a stew dish that is cooked on slow heat. Usually overnight. This is made with a special cut of meat which has bones with it. Nihari can be made with beef and mutton.
Check: Beef Nihari Recipe, Mutton Nihari Recipe
       2- Paye
Paye is made with lamb or beef trotters. It also takes a long time in cooking.
Get it here: Pakistani Paye Recipe
For Paya Masala: Gulzar Special Paya Masala
         3- Kunna
Kunna gosht is a special traditional Pakistani dish made in a clay pot and also serves in the same pot at wedding ceremonies or at special occasions. It is made with the foreshank or hindshank meat of lamb.
Find Chef Zakir Mutton Kunna Gosht Recipe 
You might also like Kunna Masala
         4- Korma
Korma is a mild gravy dish and it has a tremendous mouth-watering taste. It goes delicious with naan. You will like the taste of following the Korma Recipe.
Get Recipes: Degi Mutton Korma Recipe,
For Masala Powder: Korma Masala
         5- Karahi Gosht
As the name suggests this meaty dish is made in a karahi. Some simple spices, tomato, yogurt, green chilies are used to make it.
See Recipe: Mutton Karahi Gosht,  Mutton White Karahi
         6- Bong
Bong is made with beef meat. Just like Nihari, the bong is also cooked on low heat. But it has a different taste than nihari.
         7- Namkeen Gosht
Namkeen gosht is a famous dish in Peshawar. Professionally it is cooked with beef but you can also make it with lamb meat.
You will like
Best Namkeen Gosht Recipe, Namkeen Mandi Karahi
         8- Raan Roast (Lamb Leg Roast)
Many people hesitate to roast raan at home. Well! I always roast it at home because my family does not like the taste of raan roasted from restaurants.
Raan Roast or Lamb Leg Roast Recipe   
        9- Tikka Boti
Barbecue is a must at Eid ul Edha. Tikka, kabab are made on charcoal. A delicate aroma rise from every other home in Eid days. There are many tikka recipes but I will suggest you make Afghani Boti and Bihari Kabab.
Related: How do barbecue at home
         10- Seekh Kabab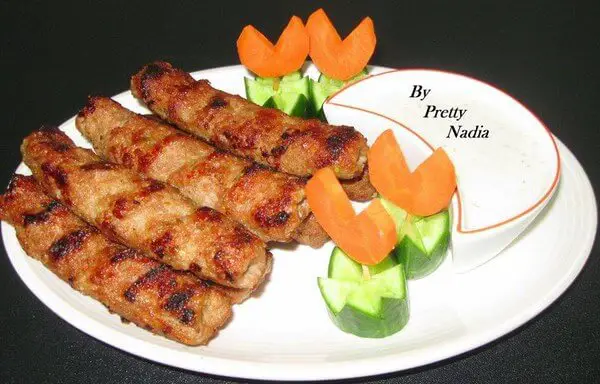 Seekh kabab has its own tempting taste. It is made with ground meat. It goes superb with imli ki chutni.
Get mouthwatering Seekh Kabab Recipes
Khoya Kabab Recipe, Simple Seekh Kabab, Malai Seekh Kabab Recipe
         11- Kaleji Recipe
In many families, liver or kaleji is serve in brunch on the day of Eid. Check out delicious Kaleji recipes and enjoy with your family.
Check recipes: Beef Kaleji. Grilled Liver
          12- Pulao
I just love mutton pulao and we mostly make it on the second day of Eid. In the recipe, rice is cooked in a stock that gives it a tremendous taste.
Check out Pulao Recipes
My mother's recipe Mutton Pulao or Yakhni Wala Pulao
         13- Biryani
Biryani is another famous Pakistani rice dish. It is cooked with chicken, beef or lamb meat. It serves with raita.
Try out: Degi Biryani, Kofta Biryani
Check also other Biryani Recipes 
         14- Chapli  Kabab
Chapli  Kabab got its name due to the large shape of kabab. Crushed spices, cooked egg, and pomegranate seeds are the key ingredients of these kababs.
The recipe is here Chapli Kabab
         15- Kache Keeme k kabab
Have you ever tried kache keeme k kabab? If not that you missed a delicious treat.
Must try Quick Kache Keeme k kabab
         16- Kache Keeme ki Roti/Paratha
Just like kabab, Kache Keeme ki Roti also has a tremendous taste. Mostly people stuff with cooked mince but raw mince tastes great.
This is the recipe: Kache Keeme ki Roti
        17- Shami Kabab
Shami kabab is a famous food in Pakistan. No matter it's Eid or any other occasion, shami kababs are served with dip. You can also freeze shami kabab.
See: Beef Shami Kabab, Shahi Malai Shami Kabab
        18- Bihari Keema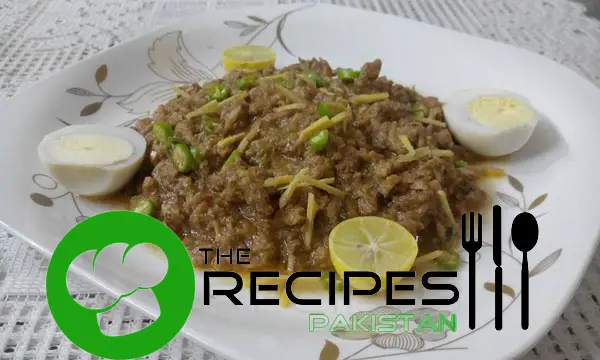 If you are looking some keema recipe then try out Bihari Keema Recipe.
You might also like Chapli Keema
Make your Own Spices Powder at Home
For BBQ we must need tikka masala or bihari masala powder. So, at this Eid make these powder spices at home. Especially Bihari Masala Powder makes tikka very scrumptious. Even I marinade Raan with this powder.
Have A Wonderful and Blessed Eid Days 🙂