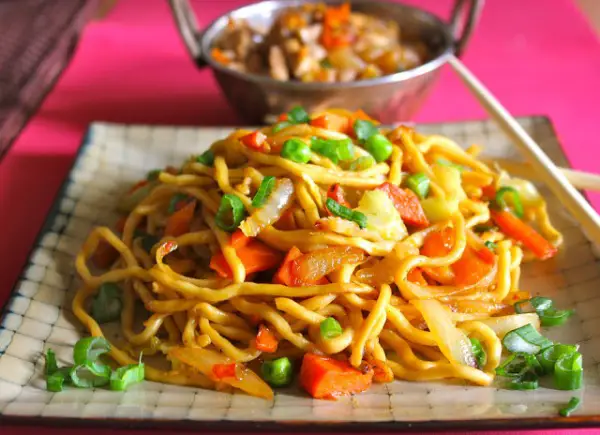 An easy and quick noodles recipe with complete health advantage. Addition of chicken is depend on your choice, it goes great without chicken as well. if you have leftover meat add in noodles.
Chicken Vegetable Noodles
Spicy Chicken Vegetable Noodles
Prep time:
Cook time:
Total time:
Ingredients
Egg noodles 1 packet (boiled)
Oil 4 tea spoons
Carrot 2 (chopped)
Capsicum 2 (chopped)
Salt ½ tea spoon or to taste
Red chili powder 1 tea spoon
Green chilies 4 (chopped)
Chili sauce 4 tea spoon
Soya sauce 2 tea spoons
Water 1 cup
Peas 1 cup (boiled)
Boiled chicken 1 cup (chopped)
Instructions
Heat oil in a pan, stir fry carrot and capsicum, and then add salt, red chili powder, green chilies, chili sauce, soya sauce and water. Cook until vegetables get soft.
Add peas and chicken, cook for 3 minutes and add noodles. Cook 2 minutes more.
Dish out and serve with ketchup.