Spicy Mutton Leg Steam is a tasty and tender meat recipe. Must try one of great recipe by Chef Zakir.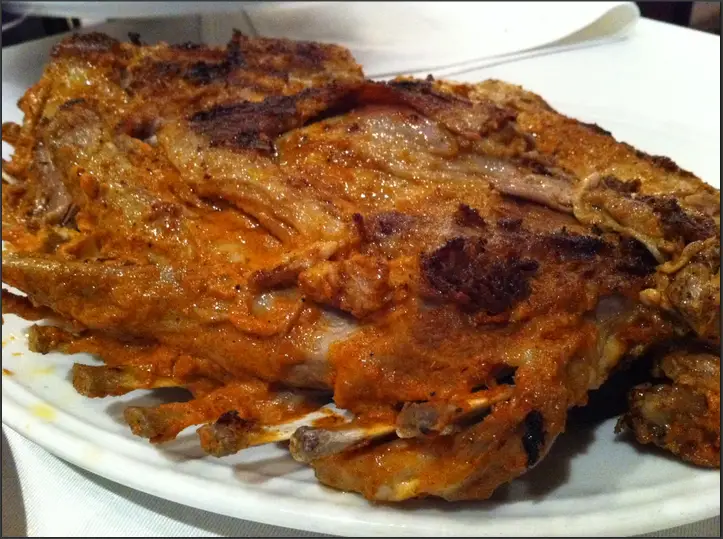 Ingredients
1 boneless mutton leg
3 onions (sliced)
3 tomatoes (divided in two)
½ kg yogurt
½ cup papaya paste
4 tbsp ginger, garlic paste
4-6 green chilies
¼ bunch fresh coriander (chopped)
¼ bunch mint (chopped)
2 tbsp red chili powder
1 tbsp red chili crush
1 tbsp garam masala powder
1 tbsp turmeric powder
2 tbsp cumin powder
¼ cup oil
Salt to taste
Water as required
[sociallocker]
Method
De bone mutton leg in such a way that meat should be separate from bone but remain one pieces.
Apply salt and papaya paste on mutton. Keep leg in steamer for 20-25 minutes.
Gravy
Cook onion in oil until golden, add ginger, garlic paste and cook.
When mix all, reduce flame, add tomatoes with little salt, red chili powder, turmeric, crush red chili, cumin powder, garam masala powder and half cup water. Mix all and cook.
Add green chilies and yogurt. Mix. Cook on medium flame.
After 7-8 minutes include bones (cut in 4-5 parts) in gravy. (chef zakir added them to increase flavor of gravy)
Now place steam leg in gravy, Cook on slow flame until cook fully.
Sprinkle mint and fresh coriander. Simmer for 5 minutes.
Place leg in serving dish pour gravy on it and serve hot hot.
[/sociallocker]