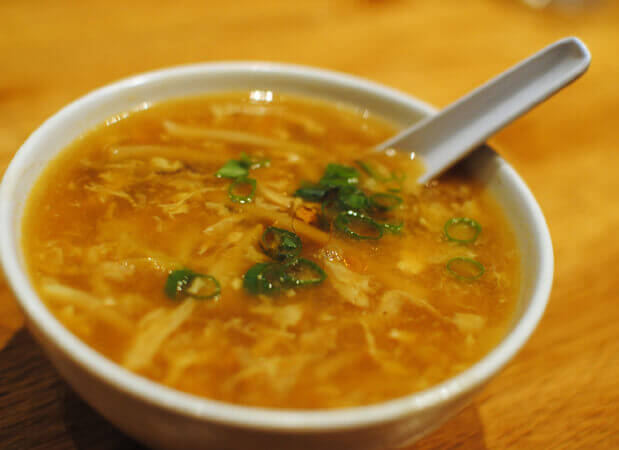 Soup is one of the best warming treat as starter to boost your party. There are many soup recipes, people love to enjoy. Let try Spicy Schezwan Soup and enjoy with your family.
Also Check: Chicken Corn Soup, Hot & Sour Soup
Spicy Schezwan Soup Recipe
Spicy Schezwan Soup
Author:
Prep time:
Cook time:
Total time:
A delicious spicy soup from Chinese cuisine. A perfect starter for your party.
Ingredients
Chicken stock 8 cups
Chicken boneless 1 cup (sliced)
Cabbage 1 cup (tiny cubes)
Carrot 1 cut (tiny cubes)
Salt 1 ½ tsp
Sugar 1 tsp
Soya sauce 4 tbsp
Chili sauce 2 tbsp
Vinegar ¼ cup
Green chilies 2 (chopped)
Corn flour 6 tbsp heaped (dissolved in ½ cup water)
Egg 1 (beaten)
Coriander leaves chopped ½ cup
Instructions
Heat chicken stock in a pan, add sliced chicken, cook for 5 minutes then add cabbage and carrots with salt, sugar, soya sauce, chili sauce, vinegar, green chilies.
Gradually add corn flour paste during stirring to thicken the soup then add beaten egg while stirring. Add coriander leaves and remove.
Notes
Serve hot with soup sticks.
---
چٹ پٹا سیچوان سوپ
اجزاء
مرغی کی یخنی آٹھ کپ
مرغی بغیر ہڈی کے ایک کپ
بند گوبھی باریک کٹی ہوئی ایک کپ
گاجر باریک کٹی ہوئی ایک کپ
نمک آدھا چاۓ کا چمچ
چینی آدھا چاۓ کا چمچ
سویا ساس چارکھانے کے چمچ
چلی ساس دوکھانے کے چمچ
سرکہ ایک چوتھائی کپ
سبز مرچ کٹی ہوئی دو عدد
کارن فلور چھ کھانے کے چمچ (پانی میں گھول لیں)
انڈا ایک عد د پھینٹا ہوا
سبز دھنیا کٹا ہوا آدھا کپ
ترکیب
مرغی کی یخنی کو پین میں ڈال کر گرم کریں، مرغی ڈال کر پانچ منٹ تک پکائیں پھر بندگوبھی، گاجر نمک ،چینی،سویا ساس،چلی ساس ،سرکہ،سبز مرچ ڈال دیں-
آہستہ آہستہ کارن فلور ڈالیں ساتھ چمچ چلاتے رہیں۔پھرچمچ ہلاتے ہوۓ پھینٹا ہوا انڈا ڈالیں.سبز دھنیا ڈال کر سرونگ باؤل میں ڈال کر پیش کریں۔
---