The creamy texture and lovely look of this cheesecake always gets compliments. A recipe by Chef Shireen Anwar.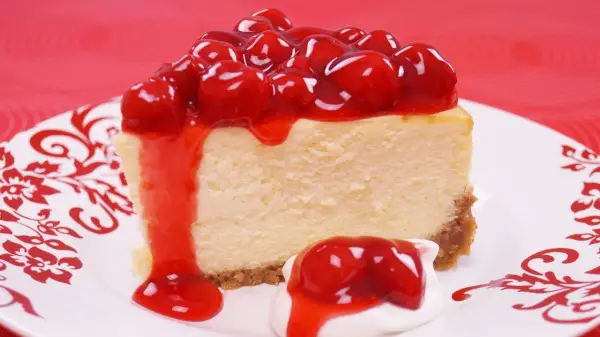 Ingredients
Digestive biscuits crushed 200 gm
Butter 100 gm
Filling
Milk ½ cup
Eggs 2 separated
Sugar 5ounces
Corn flour 1 tsp heaped
Cream whipped 200 gm
Gelatin 3 tsp
Curd cheese 8 ounces
Strawberry essence ½ tsp
Strawberries chopperized 1 cup
Fresh strawberries slices for decoration
Strawberry jelly ½ packet for glazed
Method
Crush biscuit, mix with melted butter.
Line a loose bottom pan and bake for 10 minutes on 180 degree, remove and keep aside.
In a sauce pan mix together milk, egg yolks, half sugar and corn flour till thick.
Add whip cream in the custard with dissolved gelatin and curd cheese.
In a separate bowl beat egg whites with remaining sugar, fold into the mixture.
Also add chopperized strawberries and essence.
Pour mixture over the biscuit base, put in the freezer to set.
Take out cheese cake from the pan, shift on a serving platter, decorate with fresh strawberry and dissolved Jell-O.