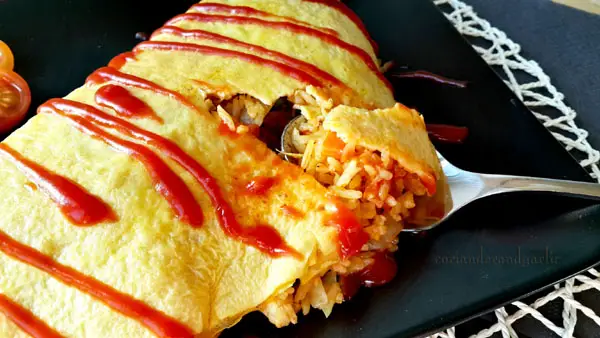 Stuffed Omelette Fried Rice also called Nasi Goreng Pattaya – Sounds different from the name It has.
There are different stories about the origin of the recipe some say it a Thai dish and some believe Nasi Goreng Pattaya originated from Malaysia.
I got it from a website, did a little modification, and thought to share it on my blog. Hope you will enjoy Fried Rice stuffed Omelette with your family.
How to Make Stuffed Omelette
Ingredients
Boiled rice 2 cups
Green onion 3 sliced
Garlic clove 1 (chopped)
Boneless chicken 200g (cubed)
Carrot 1/2 cup (diced)
Boiled peas 1/2 cup
Ketchup 1 tsp
Soya sauce 2 tsp
Salt and black pepper to taste
Eggs 2 (beaten)
Oil
Instructions
For Fried Rice
Heat a little oil in a pan and saute sliced green onion and garlic until fragrant.
Add the chicken and carrots and stir-fry until cooked.
Add the peas and boiled rice and mix well.
Season with soy sauce, ketchup, salt, and pepper according to taste.
Continue to stir until rice is completely mixed and heated through. Set aside.
For the Omelette
Lightly beat the eggs and season with a pinch of salt.
Heat a pan with a little oil. Pour in eggs and swirl the pan by the handle to make a thin omelette.
Let the omelette cook and brown at the bottom.
Once the omelette is done, place the fried rice in the center of the omelette and spread it accordingly.
Fold the edges into an envelope shape, making sure to overlap the parcel a bit.
Carefully flip the omelette onto a serving plate. Drizzle ketchup or chili sauce over the top.
Serve.