This is one of the delicious dessert when guest eat it, they will must ask you about it. An easy Toffee Brownie Trifle by Chef Shireen Anwar.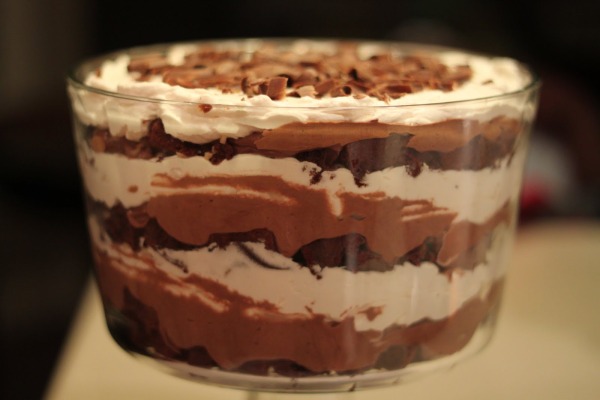 Ingredients
Chocolate brownies 4
Caramel chocolate bars 8 ounces chopped
For Custard
Sugar 4 tbsp
Milk 2 cups
Vanilla custard powder 2 tbsp
Fruit cocktail 1 can
For Cheese Mixture
Cream cheese 8 ounces
Fresh cream whipped 1 packet
Caster sugar 4 tbsp
Vanilla essence ½ tsp
Method
For Custard
Put sugar in a pan and caramelize then add milk to it and cook.
Mix custard powder in a little milk and add in sugar mixture and cook to thicken, remove and cool.
For Cheese Mixture
Beat cheese well with caster sugar and vanilla fold in beaten cream.
To Assemble
Cut the brownies into 1 inch cubes, place half brownies in trifle bowl, moisten them with fruit syrup, pour the custard over brownies.
Repeat by putting brownies, fruit syrup, cream cheese mixture, fruit and chopped caramel chocolate, decorate with whipped cream. Serve chilled.
Urdu Recipe Image of Toffee Brownie Trifle