Get Creative with ordinary things and make some different snack to impress others. In this recipes Chicken Parcels are prepared with samosa wrap. They look tempting and delicious to east. I added chicken filling, you can fill them with any of your choice filling. Cheese also tastes great in this. Try in this Ramadan and make part of your table.
 Step by Step Chicken Parcels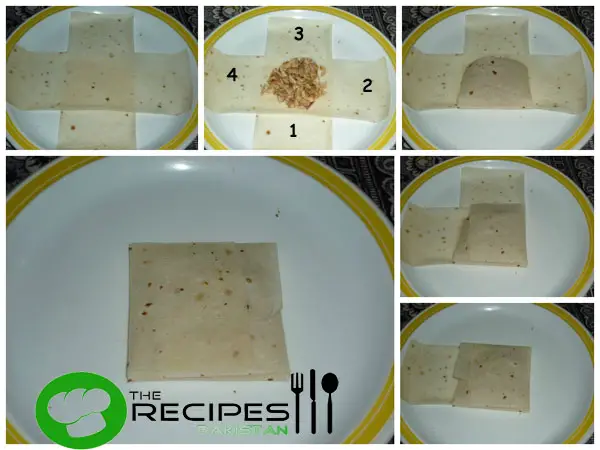 Chicken Parcels Recipe
Chicken Parcels Recipe
Author:
Prep time:
Cook time:
Total time:
Ingredients
Chicken 250 g
Salt to taste
Red chili powder 1 tsp
Coriander powder ½ tsp
Cumin powder ½ tsp
Lemon juice 1 tsp
Onion 1 small (chopped)
Green chili 2 (chopped)
Corn flour 1 tsp (mixed in a little water)
Samosa patti/wrap as required
Oil for deep fry
Instructions
Cook chicken with salt, red chili, coriander powder and cumin powder along ½ cup water.
When it done shred chicken.
Add lemon juice, onion and green chili in chicken and toss.
For Making Parcels
Place 2 samosa patti like sign of +.
Spoon filling in center. Now over lay alternate side of samosa pati. Secure each layer with corn flour paste. Check picture for instance)
Heal oil and deep fry until golden brown.
Serve with ketchup.