Creating easy snacks doesn't have to take a lot of time. There are plenty of recipes that you can whip up in a matter of minutes, with ingredients that you may already have in your pantry or refrigerator!
Whether you're looking for recipes to serve at a party or simply snack on while watching television, there's sure to be one that fits the bill.
10 Amazing Snack Recipes
All listed below recipes are simple to follow and provide options for those who want something savory, creamy, or healthy.
So take a look around, gather your ingredients and get cooking – you'll have amazing recipes for snacks in no time!
1. Creamy Chicken Lasagna Recipe

Lasagna is a popular oven-baked pasta dish, based on ground meat of chicken/ beef, pasta sauce or white sauce, and top with cheese.
The ingredients are layered between boiled lasagna sheets. You can also add capsicum for a nice flavor. Chicken lasagna bake is a real hit at parties or at any special occasion.
Ingredients
For Chicken
Boneless chicken 1/2 kg (small pieces)
Oil 3 tbsp
Onion 2 tbsp (finely chopped)
Garlic paste 1 tsp
Salt 1 tsp
Black pepper 1 tsp
Mushrooms 6
Oregano 1 tsp
Flour 1 tbsp
Cream 4 tbsp
For Cheese Sauce
Butter 3 tbsp
Flour 2 tbsp (heap)
Milk 1 ½ cup
Water 1/2 cup
Salt 1/2 tsp
White pepper 1/2 tsp
Cheddar cheese 1/2 cup (grated)
For Tomato Sauce
Oil 1 tbsp
Chopped onion 1 tbsp
Garlic paste 1/2 tsp
Crushed red pepper 1 tsp
Salt 1/2 tsp
Water 1/2 cup
Tomato paste 4 tbsp
Oregano 1 tsp
Sugar 1 tbsp
For Lasagna
Lasagna sheets 6 (boiled)
Capsicum 1 (stripes)
Cheddar cheese 1 cup (grated)
Instructions
Heat oil in a wok and fry onion in it till it's very light brown in color. Add garlic paste and sauté it for a while.
Now add chicken pieces and fry them. Add salt, black pepper, mushrooms, oregano, and flour. Mix well and add 1/2 cup water and cook till chicken become tender.
In the end, add cream. Set aside.
For Cheese Sauce
Melt butter in a saucepan over low heat; stir in flour and cook for about 2 minutes. Do not brown. Remove from heat and then gradually stir in milk and continue cooking over low heat, stirring constantly, until the sauce begins to thicken.
When the sauce starts thickening adds half a cup of water. Now cook till the sauce consistency is medium.
Season it with salt and white pepper. Remove from heat and add grated cheese in it and mix it well. Set aside.
For Tomato Sauce/Pasta Sauce
Heat oil and fry chopped onion in it till it's soft, add garlic paste and sauté for a few seconds, then add red chili flakes, salt, 1/2 cup water, and tomato paste, and mix well.
Add oregano and sugar. Cook until getting thick sauce consistency.
Lasagna Assembling
Take a big baking dish and arrange 3 cooked lasagna strips on the base. Put cooked chicken filling on it. Put some capsicum stripes and pour half the cheese sauce and pasta sauce over it.
Repeat the second layer with 3 sheets and repeat the layering process.
Sprinkle cheese on top and bake in a preheated oven at 190 for 3-4 minutes or until the cheese is melted and the top is golden.
Note
You can use pasta sauce for up to 2 weeks.
2. Spicy Chicken and Potato Pie
This recipe is a delicious combination of chicken, potatoes, peas, and cheese. In this recipe, chicken mince is used but I made it with small chicken chunks that were lip-smacking.
Must try Spicy Chicken and Potato Pie by Chef Zubaida Tariq.
Ingredients
Chicken Mince ½ kg
Ginger Garlic Paste 1 tbsp
Salt to taste
Chili Garlic Sauce as required
Peas ½ cup
Carrots 2 (Chopped)
Crushed Black Pepper 1 tsp
Boiled Potatoes ½ kg (mashed)
Cheddar Cheese 1 packet (grated)
Mozzarella Cheese 1 packet (grated)
Bread Crumbs 1 packet
Oil  as required
Instructions
In a pan heat, 2 tbsp oil and cook mince along with ginger garlic paste and some salt. Cook until tender and water dry.
Now add chili garlic sauce to taste, peas, and carrots. Cook it and add in crushed black pepper.
Grease a baking dish and spread mince on it. Add potatoes on top.
Spread cheddar cheese and mozzarella cheese.
Sprinkle Bread crumbs on the top.
Preheat the oven and bake it for 20 minutes.
Once it is golden brown, spread chili garlic sauce on it and serve hot.
3. Lentil and Vegetables Cutlets
A scrumptious combination of green lentil, carrot, and potato. Lentil and Vegetables Cutlets are a perfect snack to serve with tea or alone with ketchup.
Ingredients
Carrot 1 (grated)
Green lentil 1 cup (soaked)
Turmeric ½ tsp
Red chili powder 1 tsp
Potato 2 medium (boiled)
Salt to taste
Green chilies 2-3
Mint ½ bunch (chopped)
Egg 1 (beaten)
Bread crumbs as required
Oil for shallow fry
Instructions
Stir fry carrot in the pan until carrot water dries. Shift in a plate and allow it to cool.
Boil lentils, when the water starts boiling add turmeric and red chili. Cook until lentils are soft but grains look separate.
Add lentils to potato and mash both. Now add carrot, salt, green chilies, and mint.
Make cutlets in your required shape, dip in egg, and coat with bread crumbs.
Shallow fry from both sides till golden brown.
4. Arabic Fatayer (Mince Boats)
Fatayer is an Arabic pie and this is made in different shapes. This Arabic Fatayer is in the shape of a mince boat that is filled with cheesy mince. A well-presented food in kid's party and any other occasion.
This is a tried and tested recipe by my friend Nadia. So make it without any worries.
Ingredients
For Filling
Onion 1 (chopped)
Oil 3 tbsp
Ginger garlic paste 1 tsp
Chicken mince 250gms
Red chili powder 1 tsp
Salt to taste
Cumin powder 1 tsp
Garam masala powder 1/2 tsp
Vinegar 1 tbsp
Zaatar (Arabic herb) 1tsp (Optional)
Tomato ketchup 4 tbsp
Mozzarella cheese 2 tbsp
For Dough
Flour 2 cups
Salt 1/2 tsp
Sugar 1 tsp
Oil 2 tbsp
Instant yeast 1 tsp (heaped)
Nido milk powder 2 tbsp
Instructions
For Filling
Fry the onion in oil till golden brown. Add ginger-garlic paste along with the mince, and fry till the water dries.
Now add red chili powder, salt, cumin powder, garam masala powder and vinegar.
Cover & simmer for 10 minutes or until mince is tender.
Let it to cool on room temperature then add ketchup, mozzarella cheese & Zaatar. The filling is ready.
For dough
Mix all ingredients in a bowl & knead the soft dough with lukewarm water. Leave it to rise for an hour.
Punch down the dough. Now make small size equal balls. Roll out into an oval-shaped. Place 1 tbsp mince on each boat. Lift the pointed edges & press to make a boat shape.
Now apply egg wash. No need for second proofing.
Bake them directly in a preheated oven at 180'C for 12 to 15 minutes or till golden.
5. Twisted Garlic Cheese Bread
I just found this recipe from a  blog so I would like to share it with you. Cheesy Twisted garlic bread is a great snack or appetizer.
Ingredients
Pizza dough
Butter 1/4 cup (melted)
Garlic 1 clove (minced)
Mozzarella cheese 1 cup (grated)
Parmesan cheese 1/4 cup (grated)
Italian seasoning 1 tsp
Instructions
Preheat oven to 425⁰F.
Roll pizza dough onto a cutting board.
In a small bowl combine melted butter and garlic. Spread butter and garlic mixture over pizza dough.
Sprinkle cheese and Italian seasoning over half of the dough.
Fold another half over the cheese half.
Cut into small rectangles, carefully twist each rectangle and place on a baking sheet spacing about 2 inches apart.
Bake for 9 to 13 minutes or until golden brown.
6. Honey Chili Potatoes Recipe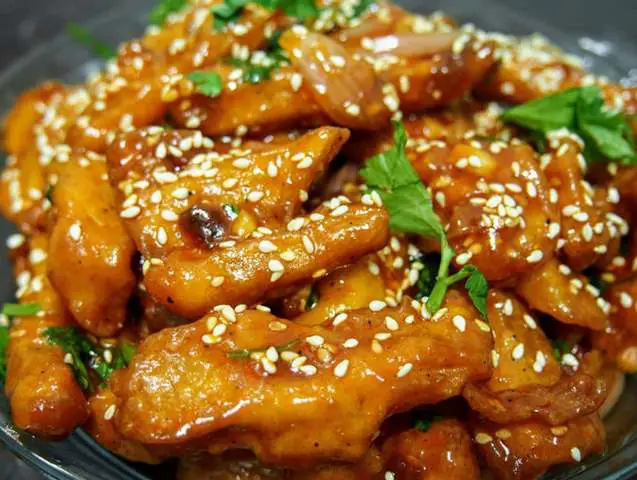 Kid's meals are the hardest to cook, aren't they? To put you out of your misery, Honey Chilli Potatoes Recipe is here.
This minimalist recipe has basic pantry ingredients that are glazed to perfection. With just the right amount of spices and nutrients, this recipe is a go-to lunch favorite.
Also, Try Other Vegetarian Recipes
Ingredients
For Fried Potatoes
Potatoes 2
Salt 2 tsp
Water 4 cups
Plain flour (maeda) 1 tbsp
Rice flour 1 tbsp
Oil to deep fry
For Batter
Plain flour (Maida)1/4 cup
Rice flour 1/4 cup
Salt -as per taste
Water to make a thick batter
For Sauce
Oil 2 tbsp
Garlic 4-5 cloves
Green chili -2-3 slit
Sesame seeds 1 tsp
Onion 1 small (sliced)
Capsicum 1/2 small (sliced)
Salt 1/2 tsp
Sugar 1/2 tsp
Soya sauce 1 tsp (light)
Red chili sauce 1 tbsp
Tomato ketchup 1 tbsp
Black pepper 1/2 tsp
Water 1/2 cup
Corn flour 1 tsp + water 3 tbsp
Spring onion 1/4 cup
Honey 2 tbsp
Sesame Seeds 1 tbsp
Instructions
First cut potatoes into French fries shapes and keep boil for 5 minutes in salted water.
Drain water, and let cool for 5 minutes.
Now sprinkle plain flour and rice flour. Keep aside.
For Batter
Add plain flour, and rice flour, if you don't have rice flour, can use corn starch, and make a batter like how we make for pakora.
Then dip potatoes in batter and deep fry like crunchy. Keep aside.
For Sauce
Take pan heat it, add oil garlic, green chili, onion slices, capsicum, and sesame seeds. Stir well.
Then add all soya sauce, chili sauce, and ketchup along with sugar. Mix it.
Add cornflour paste, add honey and mix well.
Add potatoes, and coat nicely with the sauce.
Garnish with sesame seeds and spring onion or coriander leaves.
Serve warm.
Recipe Curtsy: Kavita Sharma
7. Steak Sandwich Recipe
Be creative with recipes. Now try this super delicious steak sandwich recipe that will give you an appetizing taste and flavor.
The steak sandwich is great to serve to the family as easy lunch and dinner. If you don't like beef to eat then you can skip it and enjoy chicken.
Get the ultimate taste of steak and cheese in one recipe.
Ingredients
Hotdog Buns 2
Beefsteak 300 gm
Crushed black pepper 1 tsp
Crushed red pepper 1 tsp
Salt ½ tsp
Garlic chopped 1 tsp
Vinegar 2 tbsp
Wooster shire sauce 1 tbsp
Oregano ½ tsp
Oil as required
Onion 1 (sliced)
Capsicum 1 (sliced)
Cheese slice 2
Instructions
Marinate beef steaks with crushed black pepper, crushed red pepper, salt, chopped garlic, vinegar,  Wooster shire sauce, and oregano overnight. Keep in the fridge overnight.
Now cook in a grill pan with 2 tbsp oil from both sides until cooked.
In another grill pan sauté onion, and sliced capsicum with a little oil, black pepper powder, and salt.
Cut hotdog bus from the center into two. Put one steak in each. Top with a cheese slice.
Spread fried capsicum and onion. Cover with the other bun.
Serve hot.
8. Spring Fried Chicken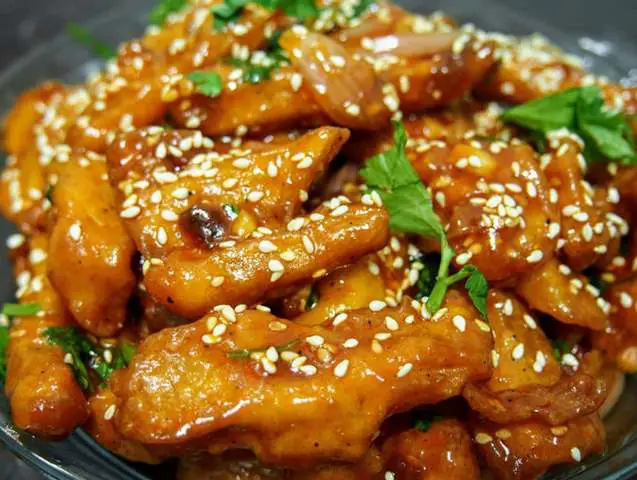 Spring Fried Chicken – tender and spicy chicken recipe is a perfect side dish for a party. You can also serve it with bread or dinner rolls to your family.
Ingredients
For Chicken
Chicken 1 kg (8 pieces)
Salt ½ teaspoon or to taste
Black pepper powder 1 teaspoon
Ginger paste 1 teaspoon
Garlic paste 1 teaspoon
Water 1/4 cup
 For Batter
Eggs 2
Corn flour 5 teaspoons
Plain flour 5 teaspoons
Soya sauce 3 teaspoons
Milk 4 teaspoons
Salt ¼ teaspoon or to taste
Black pepper powder ½ teaspoon
Instructions
Add chicken with other ingredients in a cooking pan to cook until done and the water evaporates.
In a bowl mix batter ingredients with water to make a smooth consistency batter.
Dip each chicken piece in the batter and deep fry until chicken turns to a golden brown color.
Serve hot with ketchup.
9. Pinwheel Pizza
Pinwheel Pizza is one of my best creations that was printed in Reader Digest Asia. This is a twist on a pizza recipe with great taste and outstanding presentation. In fact, circular layers of chicken, sauce, and dough look adorable.
I used chili garlic sauce for a change in taste, but you can use pizza sauce as well. It is great to serve at a kid's party and any special occasion to inspire your guests.
Ingredients
For Pizza Dough
Plain flour 2 cups
Dry yeast 1 teaspoon
Dry milk powder 2 teaspoons
Sugar 1 teaspoon
Salt ¼ teaspoon
Egg 1
Oil 2 teaspoons
Warm water as required
 Filling
Oil 2 teaspoons
Garlic paste ½ teaspoon
Chicken mince 250 gm
Crushed red chili 1 teaspoon
Cumin powder ½ teaspoon
Salt to taste
Yogurt 3-4 teaspoons
Capsicum 1 (chopped)
Onion 1 medium (chopped)
Mozzarella cheese ½ packet or as required
Oregano ¼ teaspoon
Chili garlic sauce ¼ cup
Butter 4 teaspoons (melted)
Egg 1 (beaten)
Instructions
For Pizza Dough
Combine all dry ingredients in a bowl. Mix in egg and oil knead gently to a dough with warm water. Cover and rest the dough for 45 minutes to double it.
For Filling
In a pan heat oil, add in garlic paste and fry few seconds.
Now add chicken mince, and stir until changing the color.
Put crushed red chili, cumin powder, salt, and yogurt. Cook until chicken mince is done and dry.
Mix melted butter and egg in a bowl.
Roll the dough into a large rectangular thin layer. Brush edges with beaten egg. Slather with a layer of chili garlic sauce, followed by topping and cheese.
Fold like a roll and place the pizza roll carefully on a greased ovenproof dish. Cover and leave for rising about 15 minutes.
Brush the roll with butter and egg. Bake in a preheated oven at 190 degrees for 12-15 minutes, or until golden.
Remove from oven, slice into 2″ sections and serve hot.
10. Chili Cheese Fries
Chili Cheese Fries are a delicious recipe. It is made with three types of beans, and served with fries, green onion, and melted cheese. Just superb!
Chili Cheese Fries is a tried and tested recipe by one of friends Wajeha Babar.
Ingredients
Ground chicken 2 lbs
Oil 1 tbsp
Onions 1 cup (chopped)
Ginger garlic paste 1 tbsp
Ground cumin 2 tsp
Paprika 2 tbsp
Crushed red peppers 1 tsp
Jalapeño peppers 1 tbsp (chopped)
Chipotle peppers 1 (chopped)
Salt to taste
Red kidney beans 1 can (half mushed)
Black beans 1 can (half mushed)
Pinto beans 1 can (half mushed)
Tomatoes 2 cups (crushed)
Fries as desired
Cheese 1 packet (melted)
Green onion 2 (sliced)
Tomato 1 (chopped)
Pickled jalapeño as required
Instructions
Sauté Onions in the oil. Add the ground meat, and paprika and stir until it is no longer pink.
Add the ginger garlic paste, ground cumin, paprika, crushed red pepper, jalapeno peppers, chipotle, and salt. Mix well.
Add the beans, and tomatoes. Cover and simmer on medium-low heat for 20-30 minutes, stirring frequently.
Remove from heat. Serve warm over the Fries with green Onions, chopped tomatoes, melted cheese, and pickled jalapeño slices.
Notes
You could boil your own beans if you don't wish to use canned ones.
I used store-bought frozen curly fries. Baked them at 400*F for 15-20 minutes or until crispy.