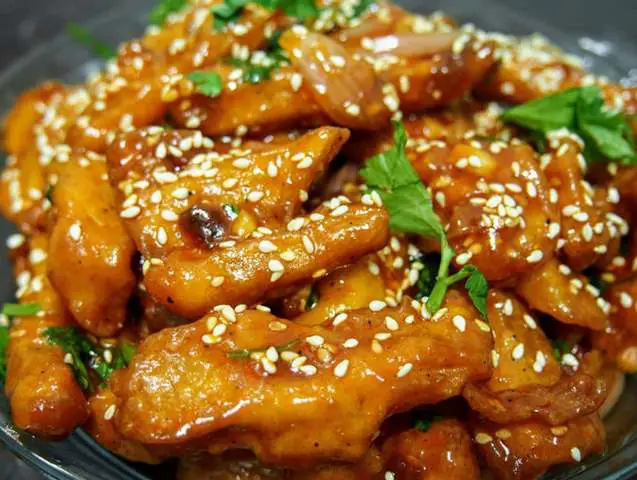 Kid's meals are the hardest to cook, aren't they? To put you out of your misery, Honey Chilli Potatoes Recipe is here. This minimalist recipe has basic pantry ingredients that are glazed to perfection. With just the right amount of spices and nutrients, this recipe is a go-to lunch favorite.
Also Try Other Vegetarian Recipes
Easy Honey Chill Potatoes
Honey chilli potatoes
Ingredients
For Fried Potatoes
Potatoes 2
Salt 2 tsp
Water 4 cups
Plain flour (maeda) 1 tbsp
Rice flour 1 tbsp
Oil to deep fry
For Batter
Plain flour (Maida)1/4 cup
Rice flour ¼ cup
Salt -as per taste
Water to make thick batter
For Sauce
Oil 2 tbsp
Garlic 4-5 cloves
Green chili -2-3 slit
Sesame seeds 1 tsp
Onion 1 small (sliced)
Capsicum ½ small (sliced)
Salt ½ tsp
Sugar ½ tsp
Soya sauce 1 tsp (light)
Red chili sauce 1 tbsp
Tomato ketchup 1 tbsp
Black pepper ½ tsp
Water ½ cup
Corn flour 1 tsp + water 3 tbsp
Spring onion ¼ cup
Honey 2 tbsp
Extra
Instructions
First cut potatoes in French fried shape and keep boil for 5 minutes in salted water.
Drain water, let cool for 5 minutes.
Now sprinkle plan flour and rice flour. Keep a side.
For Batter
Add plan flour, rice flour if you don't have rice flour can use corn starch, make batter like how we make for pakora.
Then dip potatoes in batter and deep fry likes crunchy. Keep side.
For Sauce
Take pan heat it, add oil garlic, green chilli, onion slices, capsicum, sesame seeds. Stir well.
Then add all soya sauce, chilli sauce and ketchup along sugar. Mix it.
Add cornflour paste, last add honey mix well.
Add potatoes, coat nicely with sauce.
Garnish with sesame seeds and spring onion or coriander leaves.
Serve warm.