These days sun is on its extreme and the best way to tackle this heat is to have ultimate cold dessert like ice cream. Now a days mango season is around so why not make delicious Mango Kulfi for your family. Follow this easy recipe and enjoy Mango Kulfi with your family. If you don't have kulfi mould then you can make kulfi in plastic cups, mug or kid's small glass etc. I made mango kulfi in paper cups and in a mug but I will suggest you don't use paper cup instead plastic disposable glasses are best option.
Like mango ice cream, in mango kulfi too I used homemade malai.
Mango Kulfi Step by Step Pictures
Ingredients
Mango pulp 2 cups
Milk 5 cups
Sugar 1/4 cup or to taste
Cream/malai 1 cup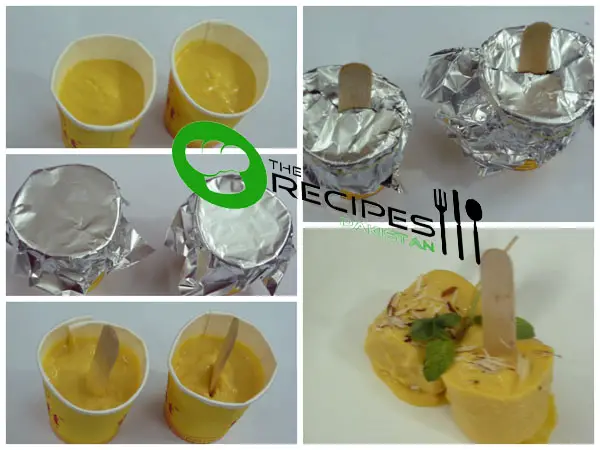 Method
Boil milk in a heavy bottomed pan. After the first boil, low down the heat and allow simmering.
Add sugar and simmer till 1-1/2 cups thick milk left.
Now mix in mango pulp and cook more 2 minutes.
Allow to cool at room temperature then mix cream.
Pour mixture in 6-8 moulds/plastic cups or mug.
Cover tightly with foil and freeze for at least 6 hours.
After one hour take them out and mix nicely.
Repeat mixing more two times after one hour gap.
When ice cream set perfectly, remove it from freezer, dip the bottom of the moulds in hot water and shift in serving bowl.
Serve immediately.