Small gas grills are one of the most convenient home appliances to cook outdoors or on the patio.
Especially if you have a small number of gatherings, these little master pieces can assist you in hassle free portability and minimum fuel consumption.
Additionally, these grills are compact in design, so you can take them anywhere, from your backyard to the beach.
Despite being small in size and with limited burners yet you can have all the possible basic features to turn your boring backyard night up to the next level.
Best Small Gas Grill
We have gathered some of the best rating gas grills from amazon and after a deep study of the manufacturer, we have listed them as the best small gas grills.
If you are looking for portable and small size gas grills for your backyard, patio, or balcony, you have landed on the right place to quench your thirst.
Furthermore, these space saving grills are equipped with sufficient portable features, which means that you can take them for camping, hiking, and tailgating as well.
In our review of grills, the best overall gas grill is Weber54060001 Q2200.
1. Weber 65010001 – Best Small Natural Gas Grill
Weber Genesis E-210 is a natural gas grill with outstanding features and a durable design. E-210 is the smallest model of their Genesis series having all the possible features of high-tech gas grills.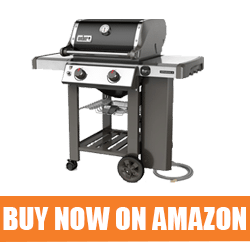 It's compact and sleek design allows you to fit the grill anywhere outside the patio, backyard, or balcony of your apartment.
I love this grill for its reversible grates system featuring wider and thin rods to cook in more creative ways. These grates are also durable and help in retaining the heat along with even heat distribution. 
380 square inches of main grilling area along with 114 square inches of tuck away warming rack provides ample cooking space to feed up to 8 to 10 persons in a single run.
The apartment friendly grill comes with a feature of infinity ignition that assures you secure and quick start up with a single push button.
Besides this, the system is also backed by a generous warranty period to build endless faith in the product.
GS4 is a system comprising over four features to ensure your next level grilling experience with E-210. Other than the ignition system it has a grip over burners, flavorizer bars, and grease management system.
This is why the E-210 natural gas grill despite being small in size yet manages to have control over each aspect to let you enjoy a quick and easy cookout whenever you want.
The sleek and open cart shape of the grill seems to be an ideal design to have quick access to accessories and organize your work in a relatively manageable way.
Foldable side shelves of 38-inch dimension along with integrated tool hooks allow you to hang the spatulas.
Weber is known for its digitized and high-tech features. With iGrill3 app, you can connect the thermometer and fuel gauge with a mobile device to have a complete check over temperature read out and fuel consumption.
10 years of the longest warranty period and 3D interactive assembly guides makes it one of the best small gas grills under an affordable price range.
What we like
Porcelain enamelled cast iron cooking grates
Comes with 380 sq. Inches of main cooking area
Equipped with GS4 grilling technology
10 years of longest warranty period
3D interactive assembly guide
What we don't like
The iGrill3 app sometimes responses earlier than the actual cooking time
As the grill works on natural gas, it can't be converted into propane gas grill
Why should you buy this?
Buying a Weber E-210 gas grill requires a little space to be installed. Moreover, it has the most reliable ignition system to start the burners. The durable design, robust construction, and powerful features of Weber Genesis E-210 gas grills are hard to be found in such an affordable range.
Our second pick on the list comes from the house of Char-Broil and it's the best compact gas grill. Their Grill2Go X200 let is designed to be taken for camping, hiking and anywhere you want.
Thereby it can be the best portable small gas grill that money can buy. Let me share some of its astonishing features with you.
As the name shows, Grill2Go is amazingly designed with portable features to serve you when you are out for camping, hiking, and picnic.
Thanks to its small and light weighted body, the lock over the lid and the sturdy handle enable the carrier to grab the grill with no hassle.
Furthermore, the lid of the grill is made with a dual stainless-steel body, and the cast aluminum firebox adds some next level durability to this unit.
To stabilize the grill, there is a frame that comes with 4 legs and a carrying handle. The frame has the desired length that keeps the grill upward from the ground surface.
What I love about this grill is that it comes with a TRU infrared cooking system. These burners are designed to eliminate the flare-ups and also help to get the high-end temperature to achieve perfect seared marks on your steaks and burgers.
The cooking grates used in Grill2Go are specially designed and installed to distribute the heat evenly across the 200 square inches of cooking area.
These grates are built with stainless steel material that prevents the cooking area from getting rust and assures you a quick and hassle-free cleaning process each time.
Furthermore, the unit also comes with a 1lb propane tank that you can connect with the grill to start the process.
What we like
Designed to be used for camping, tailgating and hiking
Sturdy and durable construction ensures long life
 Lid mounted thermometer tells accurate temperature
Infrared cooking system eliminates the chances of flare-ups
What we don't like
To keep the temperature below you have to buy control valve that would hardly cost you under $ 20
Some customers complained over the quality of stainless-steel cooking grates
Why should you buy this?
Char-Broil Grill2Go is the best small space gas grill that lets you enjoy quick seared food with little time and zero effort. The infrared grilling installed in this grill has no match and comparison. Moreover, the robust and portable construction makes it the go grill and road-trip worthy.
This is the best small gas grill that fits everyone's price range. The versatility offered in this model is no doubt matchless hence, the bucks you will spend would never let you regret for a second.
Weber Q2200 got the title of Amazon choice with over thousands of positive reviews.
Weber Q2200 gas grill is the easiest grill to operate and maintain at the same time. All we have to do is turn on the gas, hit the ignition, then pile on your food.
Once you have done all of your cookout processes remove the grates to expose the cook box, with a scrapper you can scrape the dripping from the surface and with a brush-out burner tube.
The durability of the grill has given immense importance, the cast aluminum lid and entire body construction made to last for years.
However, porcelain-enameled cooking grate retains the rust and corrosion away and also enables even heat distribution across the cooking surface.
The best small weber gas grill unit comes with a stainless-steel single U-shaped burner tube that is responsible to fire up 12,000 of BTU to heat up 288 square inches of cooking surface.
Yet, the cooking surface is more than enough to cook burgers, steaks, meat cuts and baby back ribs to feed 4 to 6 people just in a single run.
The lid of the grill features a lid mounted thermometer to keep you aware of temperature readout after having a single glance.
A sturdy handle over the lid and Glass reinforced nylon frame refrains the heat and prevents your hand from getting intensive heat and smoke.
Another amazing thing for which I love this Weber Q is also it's one of the main selling points and that is Portability.
It weighs around 40 pounds only which means that holding the given side handles you can easily grab the grill to transfer anywhere you want.
Storage space in a grill enables you to put the required stuff for quick access. For this purpose, weber Q is all equipped with side shelves to assist you with storage requirements.
The sturdy construction, portable features, and durable design are the features for which this gas grill can have great value for the money.
What we like
Thermometer to monitor inside temperature
Side handles to transport the grill easily
Electronic ignition to start the grill
288 Sq. Inches of porcelain enamelled cooking grate
What we don't like
Due to single burner you can't do indirect grilling
Why should you buy this grill?
Weber Q gas grill can be your best BBQ partner with its pretty simple and withstand design to last you for more than your imagination. Besides this, it does not require hours of cleaning with few steps.
You can clean the grill within a few minutes. You must buy this grill especially if you are living in an apartment as the size of the grill can fit well on your balcony.
4. Fuego F24C – Best Small Cold Weather Gas Grill
If you are here to find a grill that suits your extreme city weather, Fuego F24C gas grill is all here to uplift your winter grilling thrust up to the next level.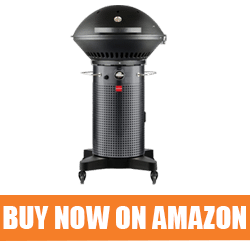 It can heat up to 500 degrees just within 5 minutes and the perfect sealing retains the outside coldness and ensures you a smooth and hassle-free grilling process.
No doubt this grill looks so complicated and unique but you won't believe the assembly of the unit is so easy and it just requires you to perform a few steps only.
All it requires you to have a boxcutter and screwdriver to get started. When it comes to operate, Fuego steps ahead of its competitors in terms of giving you a quick and secure cookout all the time.
Furthermore, the best small outdoor grill is so compact in shape that you can easily fix it for the process. Either its patio or balcony with its sturdy casters you can round the grill until you find a perfect place to camp.
The unit is also equipped with a dual zone burner system. It can combine and reduce 26,500 BTU to let you cook on both direct and indirect heat zones.
Cast iron cooking grate along with a stainless steel warming rack provides ample cooking space of up to 525 sq. Inches to grill 20 quarter pound burgers in single go.
When it comes to the lid, it can be tucked away for safe handling, beside this, it also features porcelain enamel material to prevent the lid from peeling off and bubbling over the surface.
Lid mounted thermometer monitors the inside temperature and lets you enjoy an accurate temperature readout.
When it comes to the durability of the grill, the fine design and robust construction refrains the components from rust, corrosion, and scale build-ups.
However, the design is built with a long-lasting clasp door close system to keep the propane tank inside the storage.
Electronic ignition makes the grilling quick and hassle free start up. This means that all you need is a single touch and rotation of the burner knob to enjoy a delicate mouth-watering BBQ for dinner with this small patio gas grill.
What we like
Used in harsh weather conditions
Durable and long-lasting construction
Dual Zone burner system for direct and indirect cooking
Compact and sleek design to be used for patio and balcony
What we don't like
Design does not include side shelves and storage table
The internal ring sometime takes more than 5 minutes to get fully heats up
Why should you buy this?
Buying a Fuego F24C gas grill can handle most of your grilling jobs with little or almost no effort. It comes with a powerful BTU and the cooking area is superheat retainable which means that it can be your best winter grilling partner with its direct and indirect heating zone.
Masterbuilt has a great reputation among its customers for producing a line of top-notch smokers and grills. Their SH19030819 is crafted as a table top propane gas grill that is credited to have a 4.5-star rating on amazon.
The compact and sleek design allows you to take the grill on go. Let me take you to the insight view of this unit.
The best compact gas grill features ample cooking space of 304 sq. inches spread across stainless steel cooking grate and chrome coated warming rack. The stainless-steel construction ensures your rust retaining and durable body for life.
Startup in a grill has immense importance and it also impacts the durability of the grill. An easy-to-use push button in this unit is capable enough to deliver your grill quite comfortably and secure start up whenever you want.
Let's talk about its power, it comes with a single U-shaped burner that is sufficient to deliver up to 10,000 BTU. Hence the power is more than enough to cook burgers, steaks, chicken, and seafood having multiple sessions.
Apart from this, the stainless-steel firebox beautifully handles the burden of your all type grilling needs.
The size and weight of the grill latch over the lid, foldable legs, sturdy and large handle enable its craftsman to transfer this best small portable gas grill anywhere on the globe.
Despite having a single burner to operate, the lid mounted thermometer keeps an eye over the inside temperature to get you informed about the accurate temperature readout. Masterbuilt SH19030819 with its durable design, withstand body and powerful features can be the best small gas grill under $ 200.
What we like
Chrome coated warming rack
U-shaped stainless-steel burner
10,000 of powerful BTU
305 of total grilling area
What we don't like
The Lid over the unit does not and allows heat to escape out of the grill
Some customers complained that the grill is not constructed well and durable
Why should you buy this?
If you are looking to have a small tabletop gas grill, there is no better option than having a Masterbuilt smoke hollow. The stainless-steel grates provide you with a perfect room to bloom your boring dinner routine with some delicate and juicy burgers.
Bottom Line
These small gas grills are the best solution for small spaces like flats, apartments. As being fuelled by propane or natural gas you don't need to be worried about community restrictions. This means that buying a small size unit can let you enjoy restaurant style BBQ every day at your convenience. 
For a small patio and backyard Weber 65010001 Genesis II E-210 is a grill that performs well with its GS4 and can be fixed on a small space. Moreover, buying this unit assures you high tech digitized features are hard to find in other small units of this size. 
The only drawback of the unit is that it works on natural gas hence, you can't move it. If you want your grill to serve everywhere you want then Weber 54060001 Q2200 Liquid Propane Grill is the best small portable gas grill. it's side handles make the grill easier for you to move around.
FAQS
Q1: What is the best small gas grill?
Looking for a best small gas grill needs little consideration of your requirements for the unit. If you want your gas grill to be compact and professional at the same time then Char-Broil Grill2Go X200 TRU-Infrared is designed to enrich your desolate nights with mouth watering smoky fragrance.
The infrared technology cooks the food on time and ensures you are perfectly seared whenever you want. Moreover, Char-Broil is highly durable and is backed by millions of customers worldwide.
Q2: What is the best portable gas grill?
When you are out to look for a small gas grill make sure that the grill should have sufficient portable features for quick and secure mobility. Some of us prefer small units so that we can take them for camping, hiking and Rvs.
For such a purpose, Weber 54060001 Q2200 gas grill with it's side handles and light weight is a great grill to be shifted anywhere for BBQ parties. You can even place the grill in a car or other vehicle if the picnic point seems to have been far away.
Q3: What is the best small natural gas grill?
When choosing the best gas grill, the most important thing to consider is whether you want a natural gas grill or a propane gas grill. The cheapest and excessively available fuel type is natural gas grill.
Weber 65010001 Genesis II E-210 is one of the best natural gas grills, compact in design and robust in construction. It is also equipped with GS4 grilling technology. iGrill3 app allows you to connect the thermometer with your Mobile device to have complete control over temperature and cooking timings.
Q4: Can I use my small gas grill indoors?
Gas grills and charcoals are meant to be used outdoors only. This is due to the fact that they emit carbon monoxide that is not only harmful to your health, but it can also take your life.
Every year more than 60 % of incidents occur in America due to the gas grill. Hence, be careful when using the grill and make sure to have an airy and open area especially when you have to grill on charcoal and gas.
---
About Author
Aena has a Bachelor's Degree in Information science from Boston College and a diploma in Market Research. She is a highly qualified writer and editor with over 10 years of experience in the publishing industry. She has written for leading magazines on topics such as fashion, beauty, travel, food, and lifestyle. Aena currently contributes to our blog writing all sorts of articles about different things that interest her like food and kitchen gadgets. She also acts as an Editorial member of our blog where she reviews products before they are featured on the site.