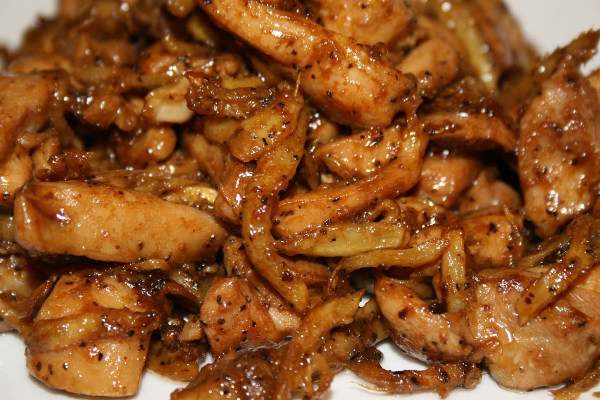 If you ever had ginger chicken before, than you know that there are many ways to make them. Growing up Chicken Ginger Recipe is a favorite dish to make and eat. Beside from the fact that ginger taste good, it also very good for you. It is known to regulate your blood flow due to it heat factor. This meal is perfect for a mid-week dinner for the family, taking just 20 minutes to make, including cooking time. Full of zingy ginger dish made by Farah Jahanzeb Khan.
Chicken Ginger Recipe
Chicken Ginger
Author:
Prep time:
Cook time:
Total time:
Ingredients
Chicken (stripped) 1/2 kg
Tomatoes (boiled and peeled) 3-4
Yogurt 1 small bowl
Fresh coriander 1/2 cup
Red pepper 2 tsp
Coriander chili powder 1.5 tsp
Butter 1/4 cup
Garam masala 1 tsp
Garlic paste 1 tsp
Green chillies 6
Salt 1 tsp
Ginger (julian cut) 2 inch piece
Instructions
Make paste of tomatoes.
Heat up butter in a pan, stir fry chicken for sometime.
Add tomato paste in it and cook.
Mix salt, red chili powder, garlic, coriander powder in yogurt and add in chicken along garam masala and green chillies.
Cover the lid, and let it cook on medium heat until chicken tender.
At the end add ginger and fresh coriander in it.
Serve hot with naan or paratha.