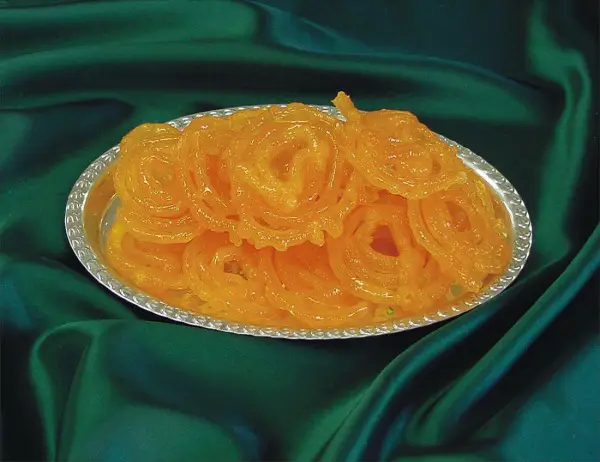 If you're looking for a sweet treat that will make your mouth water and eyes light up, then look no further than this authentic Jalebi dessert.
This rich spiral is typically eaten during weddings or festivals but can be enjoyed anytime as well!
Jalebi is a popular sweet treat that can be difficult to make at home, but not with the following recipe.
Homemade Jalebi Recipe
Ingredients
All purpose flour ½ kg
Baking powder 1/2 tsp
Rung kaat 1/4 tsp
Special mulmul cloth of julabi
Water as required
Oil for fry
Sugar Syrup
Instructions
Add ½ cup water in all purpose flour, mix it then add more water and mix. Total add one and half cups to two cups water in all purpose flour slowly.
After mixing well, stir in baking powder and rung kaat.
Beat the mixture up and down with hand. Do this process until batter comes in a single layer.
Keep it on normal temperature for 8-10 minutes.
Take oil in a flat wok (special wok use for frying jalebi) about 1/2 inches up in wok and heat it on medium flame.
Make a thin hole in center of mulmul cloth and place it openly on bowl and add two cooking spoon of mixture in it and turn cloth well. (keep cloth on bowl if mixture drop, it will drop in bowl).
Make jalebi's in wok and fry them until golden.
Take out from oil and keep in sugar syrup for a few minutes.
Sugar Syrup
Cook sugar in 1 glass of water until average thick. Use it when cool.
Also Check: Popular Chef Zakir Recipes