A hearty beef steak recipe to enjoy with your friends and family. Dropping of white sauce and serving with boiled vegetables make it a complete meal.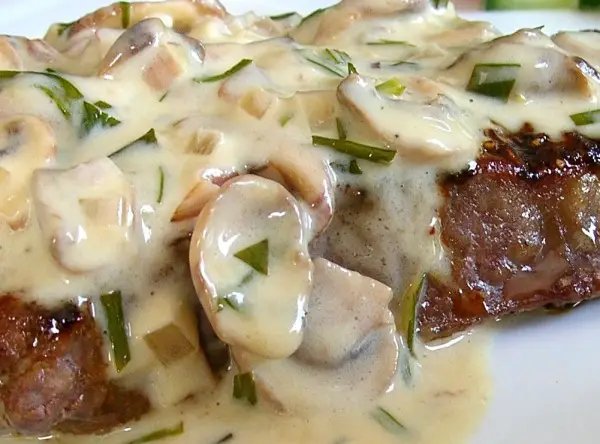 Ingredients
Beef Steak 500 grams
Mustard Paste 1 tbsp
Black Pepper ½ tsp
Salt ½ tsp
Garlic Paste 1 tsp
Worcestershire sauce 1 tbsp
Lemon Juice 4 tbsp
Oil 2 tbsp
For Making Sauce
Butter 50 grams
Flour 1 tbsp
Milk 1-1/2 cup
Black Pepper ½ tsp
Oregano ½ tsp
Salt ½ tsp
Mushroom 1 cup (chopped)
Parmesan Cheese 1 tbsp
Lemon Juice 1 tbsp.
Boiled Mix Vegetables as required
Method
Apply mustard paste, black pepper, salt, garlic paste, Worcestershire sauce and lemon juice on beef steak.
Keep in fridge for overnight.
Heat grill pan and cook beef steak on both sides for 5, 5 minutes each.
For Making Sauce
In a pan sauté butter along with flour.
Now stir in milk then add black pepper, oregano, salt, mushroom, Parmesan Cheese . Cook until it gets thicken and turn off the flame while adding lemon juice.
Place steak in dish and drop white sauce and top with boiled mixed vegetables.
Serve hot with pita bread or simple bread.