Pineapple Upside Down Pudding would be delicious addition in your menu. Enjoy a great recipe by Chef Shireen Anwar.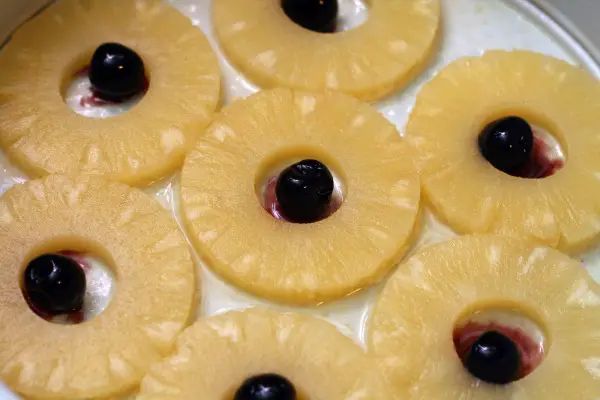 Ingredients
Gelatin powder 3 tsp
Water ¼ cup
Egg yolks 3
Sugar 6 tbsp.
Milk 1 cup
Pineapple essence ½ tsp
Yellow food color few drops
Fresh cream 1 cup (whipped)
Pineapple slices few
Cherries 6 to 8
Method
Dissolve gelatin in ¼ cup water.
Mix egg yolks with sugar and milk, cook on low flame, stirring continuously, do not boil.
Remove from fire and add in essence, food color and dissolve gelatin, let cool mixture. Than fold in the whipped cream.
Set pineapple rings in greased glass pie dish, on the base and sides, put cherries in the whole, pour mixture on the pineapple slices.
Allow to cool at room temperature for 30 minutes then keep in fridge for 2 hours to set, over turn before serving.