Everyone know about Coleslaw salad served with burger and sandwiches etc. This recipe is a variation in coleslaw with addition of chicken. Chicken Coleslaw has its own taste that makes it worth eating. Must try Chicken Coleslaw!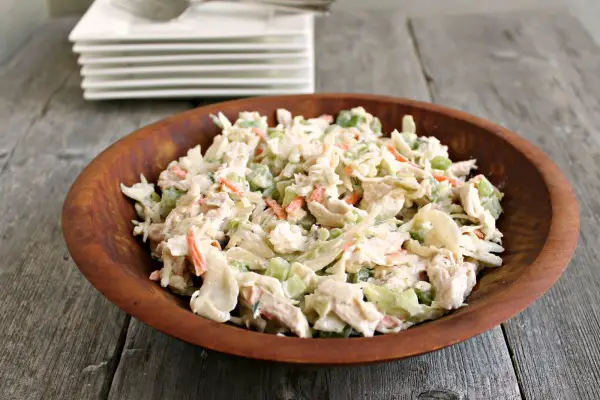 Ingredients
Chicken breast 1 (cubed)
Garlic 4 cloves (chopped)
Salt ½ tsp or to taste
White pepper ½ tsp
Vinegar 2 tsp
Cabbage 1 cup (thinly sliced)
Pineapple ½ cup
Apple 1 (cubed)
Mango 1 medium (cubed)
Lemon juice 1 tsp
Cream ½ cup
Mayonnaise 4 tbsp
Sugar 1 tbsp
Black pepper for seasoning
Method
Marinade chicken with garlic, salt, white pepper and vinegar. Leave for 30 minutes.
Add chicken in cooking pan and cook till chicken tender in its own water and water evaporates. Let it cool.
Put chicken, cabbage, pineapple, apple, mango, lemon juice, cream, and mayonnaise in a bowl.
Add sugar and season with black pepper.
Toss gently; chill and serve.