Kachori is a popular snack in Pakistan that is mostly eaten in Ramadan. Mince filling inside and crispy, flakey outer layer make it simply delicious.
Kachori is something that we prefer to bring from shop though these kachories do not tatse good. That's why from long time I didn't eat it. Every year in Ramadan I searched for kachori recipe but none of seems me good to try it.
Yesterday I saw a friend's post on facebook she shared her Kachori picture that was looking crispy, I instantly messaged her and ask about recipe and result, she said kachories are perfect. Next day I try the recipe and yes these are even much and much better then the shop made.
Though the recipe is long yet not difficult, especially step by step pictures make it much easy to follow.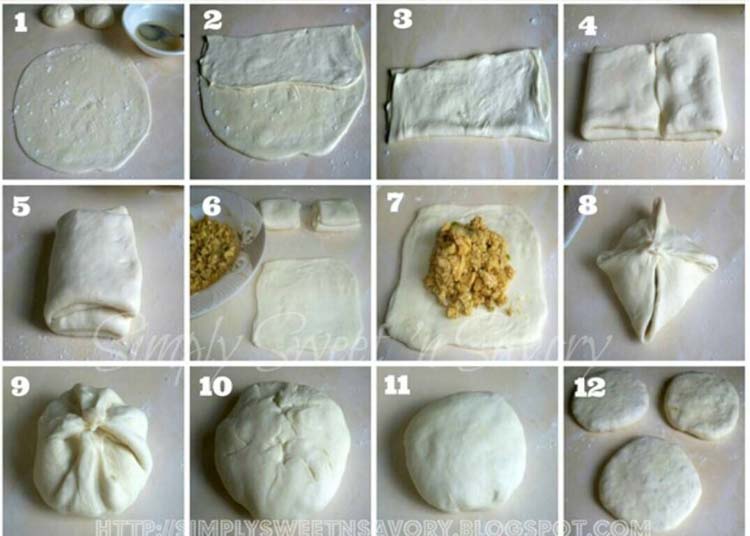 In this recipe I used mince for filling, you can replace mince with dal or vegetable filling.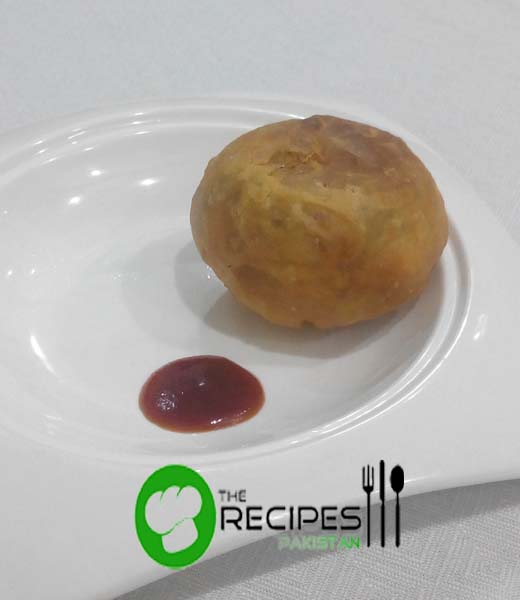 Crispy Kachori Recipe
Prep time: 1 hour
Cook time: 40 mins
Total time: 1 hour 40 mins
Serves: 6
Ingredients
For Filling
Boneless chicken mince 500gm (you can use beef or mutton mince, without fat)
Onion 1 small (thinly sliced)
Green chilies 2-3 (finely chopped)
Red chili powder 1 tsp
Salt 1/2 tsp or to taste
Turmeric powder 1 tsp
Ginger garlic paste 2 tsp
Garam masala powder ¼ tsp
Water 1 cup or as required
Fresh coriander leaves 2 tbsp (chopped)
For Dough
Plain flour 2 cups
Salt ¼ tsp
Water as required
For Smearing
plain flour 1 tbsp
Clarified butter (Ghee) 2 tbsp
Oil for deep frying
Instructions
For Filling
Combine all ingredients of filling except coriander leaves in a pan. Cook on medium heat until chicken is done and water has evaporated.
Transfer the mixture to a wide platter, add chopped coriander leaves and set aside to cool completely.
For Dough
Combine flour and salt in a large bowl. Gradually add water and knead well to make smooth and soft dough. Keep in fridge for 20 minutes.
Using your hands, shape the dough into a log on a flat surface and divide into 6 equal pieces using a sharp knife.
Shape the pieces of dough into balls. Lightly grease the balls and set aside for 10 minutes.
For Smearing
Combine flour and soft ghee in a bowl, keep aside.
Assembling
Roll each ball out into a thin round circle. Apply smearing (flour and clarified butter) all over each circle. Lightly sprinkle flour over it (as in picture 1).
Fold the dough circle towards the center (as in picture 2). Lightly press it, then pick the opposite side and fold over towards the middle to meet the previous flap (as in picture 3).
Now apply smearing (flour and clarified butter) to the folded flaps. Lightly sprinkle flour over it.
Fold the dough from one of the long sides to the middle (as in picture 4). Fold the the dough over from the opposite side towards the middle (as in picture 5). You'll get a square shape.
Lightly oil your hands and press one square shape to about 3″ to 4″ in diameter (as in picture 6) .
Place a part of the filling in the center. Apply little water around the edges of each square (as in picture 7).
Bring the corners to the middle over the filling and pinch them together (as in picture 8).
Again bring the corners to the middle and pinch them together (as in picture 9) .
Seal the ends tightly to make a smooth disc (as in picture 10 and 11). Then gently flatten them into a 3″ to 4″ inch round (as in picture 12).
Repeat this procedure with the remaining squares of dough & filling.
Heat oil in a deep-frying pan or wok over low heat.
Carefully add kachoris (do not load the pan) into the oil. They will sink to the bottom and after couple of minutes start floating to the top of the pan.
Using a large spoon, spoon oil over the top of the kachoris so that they continue to puff up. When they puff up, turn the kachoris over to the other side and cook until they starts to turn golden.
Increase heat to medium and fry till both sides are golden brown.
Remove kachoris from oil with a slotted spoon and drain on paper towel. Repeat the process until all the kachoris are done.
Serve them warm with chanay ka salan or your favorite chutney.
Notes
Recipe and step by step picture courtesy Kitchen Flavors.