Shashlik is very delicious dish that is mostly made with chicken meat, but this time add twist in it and make meat balls shashlik. Meat Balls Shashlik is an outstanding dish that makes a great family meal.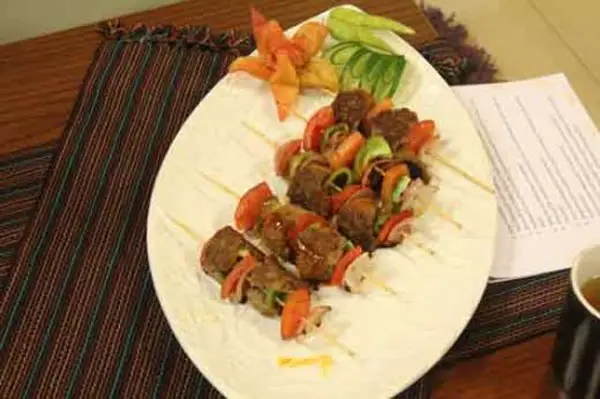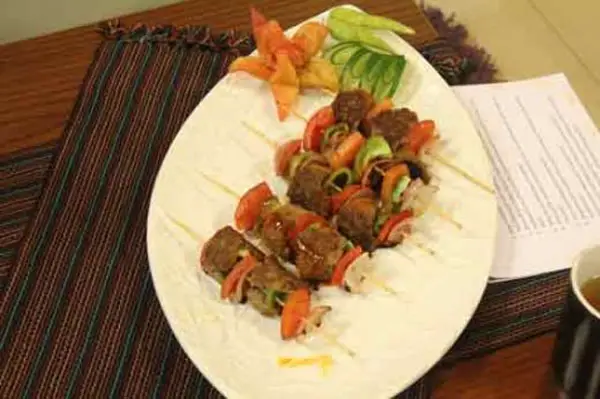 Ingredients For Meat Balls
Mince 250 gm

Salt 1/2 tsp

Black pepper 1/2 tsp

Ginger garlic paste ½ tsp



Egg 1/2 (beaten)

Corn flour 1 tbsp

Bread 1 slice (soaked in

¼ cup

water)

Onion 1 cut (square cubes)

Capsicum 1 (square cubes)

Ketchup 1/4 cup
Method

Put mince, salt, black pepper, ginger garlic paste, egg, corn flour and bread slice in chopper and choperize all.

Make into round balls, put ball on wooden skewer then onion cube then capsicum. Repeat it. Put on skewers in this way and pan fry meat balls until soft and tender.

At the end brush with ketchup.

Ingredients for shashlik sauce

Tomato puree ½ cup

Oil ¼ cup

Water ½ cup

Sugar 1 tbsp

Chili powder 1 tsp

Salt ½ tsp

Garlic paste ½ tsp

Vinegar 2 tbsp

Method

Heat oil, fry garlic, then add all ingredients, cook till thick. Pour over shashlik and serve.