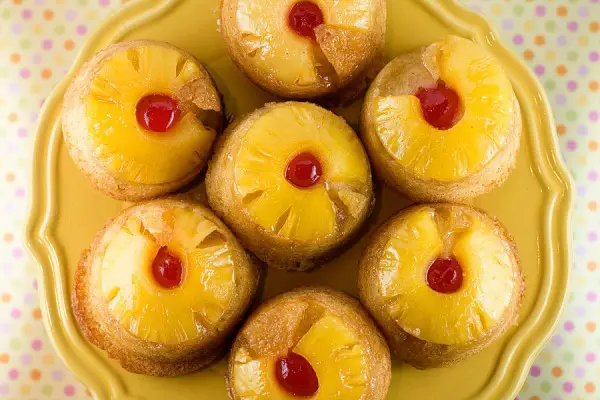 I just saw this recipe on a facebook page, I liked it so thought to upload on my blog. Mini Pineapple Upside Down Cakes are best for kids and even elders too love to eat them.
Mini Pineapple Upside Down Cakes Recipe
Ingredients
For Cake
Eggs 2
White sugar 3/4 cups
Pineapple juice 4 tbsp
All purpose flour 3/4 cups
Baking powder 1 tsp
Salt 1/4 tsp
Topping
Butter 1/4 cup or 4 tbsp
Brown sugar 2/3 cup
Pineapple rings 1-can
Cherries 6
Method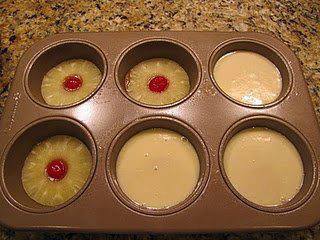 Preheat oven to 200 degrees. Spray muffin pan with non-stick cooking spray.
In a mixing bowl, add eggs, white sugar, and pineapple juice. Beat for 2 minutes.
In a separate bowl, sift together the flour, baking powder, and salt. Add to the wet ingredients and turn mixer back on for 2 minutes.
Topping: Melt the butter in a small sauce pan and add the brown sugar. Stir on low heat for one minute.
Spoon a layer of the warm brown sugar mixture into the bottom of each muffin tin, then place a pineapple ring on top. Add a cherry in the middle of each pineapple.
Pour cake mixture over to fill muffin tin 3/4 of the way full. If you are using regular muffin tins, you will need to cut down the rings to fit or just use pineapple chunks.
Bake for 12-15 minutes. Cool on wire rack and serve.