Let follow a delicious recipe of Burmese Prawn Rice. Perfect tasty dish with combination of coconut milk and prawns. A recipe by Chef Rida Aftab.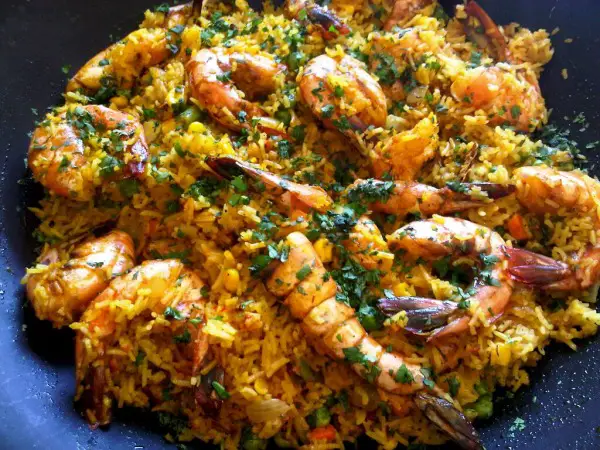 Ingredients
Onion 250 grams (sliced)
Oil 1/4 cup
Tomato ½ kg
Ginger garlic paste 2 tsp
Red chili powder 2 tsp
Curry leaves 10
Turmeric 1 tsp
Salt 1 tsp
Cumin seeds 1 tsp
Crushed coconut 2 tsp
Crushed coriander 2 tsp
Green coriander 1 bunch
Prawn 1 kg
Lemon 2
For Rice Making
Oil 4 tbsp
Curry Leaves 6
Turmeric 2 tsp
Salt 1 tsp
Coconut Milk 1 cup
Boiled Rice ½ kg
Boiled eggs 4 for garnish
Potato chips for garnish
Method
In frying pan add onion, cook until light brown, along with this add tomatoes.
After this add ginger garlic, red chili powder, curry leaves, turmeric, turmeric, salt, cumin seeds, coconut, crushed coriander along with prawns.
Cover and cook for 15 minutes.
Cook until tender, and add sliced lemon and then turn off the flame.
For rice, heat 4 tbsp oil in frying pan and add curry leaves, turmeric, salt along with coconut milk.
Cook until it reaches to boiling point, add boiled rice, cook and cover for 10 minutes.
Dish out rice in platter and pour prawns on top.
Garnish with boiled eggs and potato chips.
Ready to serve.