This recipe is a delicious combination of chicken, potatoes, peas, and cheese. In this recipe chicken mince is used but I made it with small chicken chunks that was lip smacking. Must try Spicy Chicken and Potato Pie by Chef Zubaida Tariq.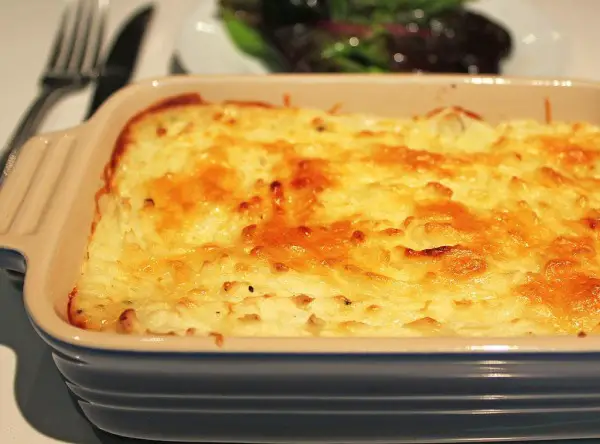 Ingredients
Chicken Mince ½ kg
Ginger Garlic Paste 1 tbsp
Salt to taste
Chili Garlic Sauce as required
Peas ½ cup
Carrots 2 (Chopped)
Crushed Black Pepper 1 tsp
Boiled Potatoes ½ kg (mashed)
Cheddar Cheese 1 packet (grated)
Mozzarella Cheese 1 packet (grated)
Bread Crumbs 1 packet
Oil  as required
Method
In a pan heat 2 tbsp oil and cook mince along, ginger garlic paste and some salt. Cook until tender and water dries.
Now add in chili garlic sauce to taste, peas and carrots. Cook it and add in crushed black pepper.
Grease a baking dish and spread mince on it. Add in potatoes on top.
Spread cheddar cheese and mozzarella cheese.
Sprinkle Bread crumbs on the top.
Preheat the oven and bake it for 20 minutes.
Once it is golden brown, spread chili garlic sauce on it and serve hot.