I like different shapes of baked Bread and when I get some time I try to make some new type of bread. This is Bread Finger Roll, you can stuff it with your desired filling. This is great to serve as snack with tea or cold drink.
Also Check: Cheese Naan, Baked Naan Recipe
Step by Step Bread Finger Roll Recipe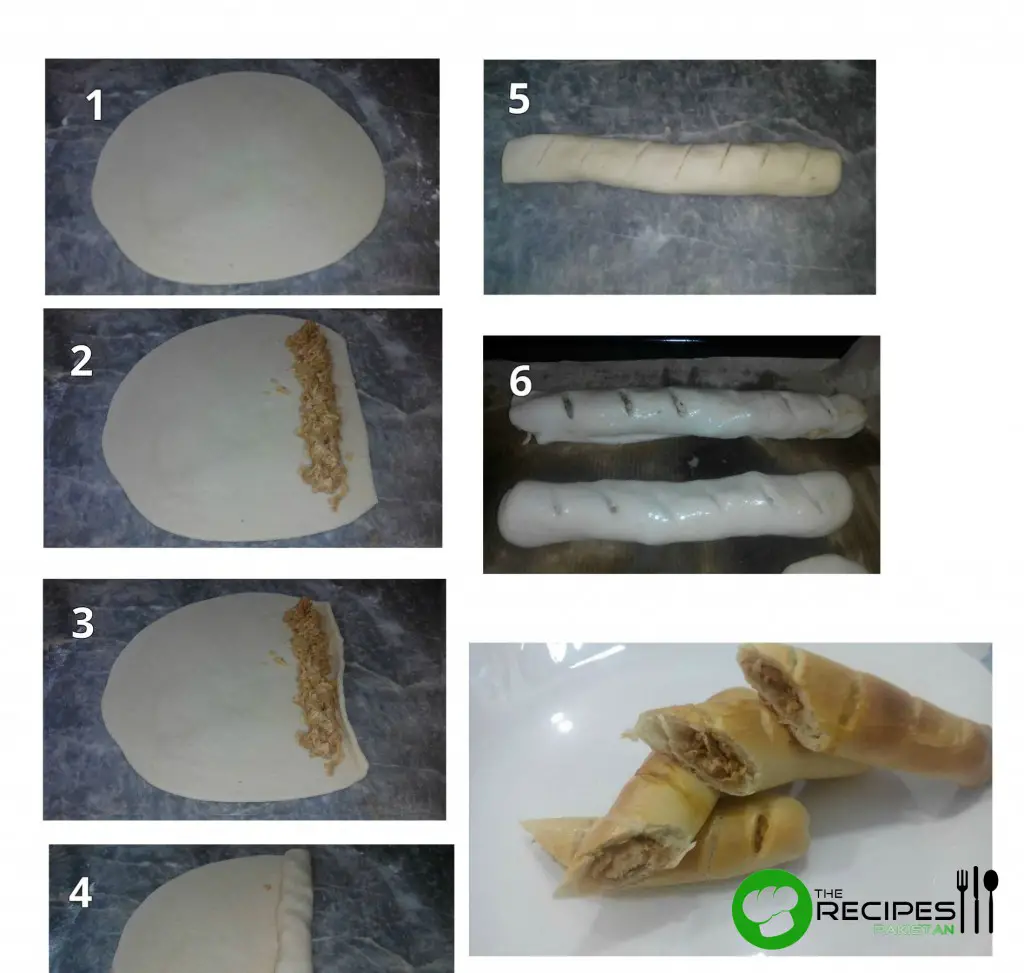 Bread Finger Roll
Author:
Prep time:
Cook time:
Total time:
Ingredients
For Dough
Plain flour 1 1/2 cups
Dry yeast 1 tea spoon
Dry milk powder 2 tea spoons
Sugar 1 tea spoon
Salt ¼ tea spoon
Egg 1/2 (beaten)
Oil 2 tea spoons
Warm water as required
For Stuffing
Chicken 300g (boneless)
Ginger garlic paste 1 tea spoon
Salt to taste
Red chili powder 1 tea spoon
Cumin powder ½ tea spoon
Garam masala powder ½ tea spoon
Onion 1 medium (chopped)
Green chilies 2 (chopped)
Egg 1 (beaten)
Instructions
For Dough
Combine all dry ingredients in a bowl. Mix in egg and oil, knead gently to form dough with warm water. Cover and rest the dough on warm place for 45 minutes to double it.
For Stuffing
Add chicken in pan along ½ cup water, ginger garlic paste, salt, red chili powder. Cook until chicken tender and a little water left. Add cumin powder and garam masala powder. Remove from heat and allow cool.
Roughly chop chicken with remaining water, onion and green chilies.
Assembling
Roll out dough into square shape or round shape.
Put filling on one side; leaving ½ inch edge.
Fold the dough to give it a roll shape.
Seal and cut the dough for making other roll.
Apply diagonally cut on bread roll.
Leave it for another 30 minutes for rising then apply egg wash on it.
Bake it at 180 degrees C for 12- 15 minutes or until golden.